Unique and Clever Ways to Hide & Store Kids Toys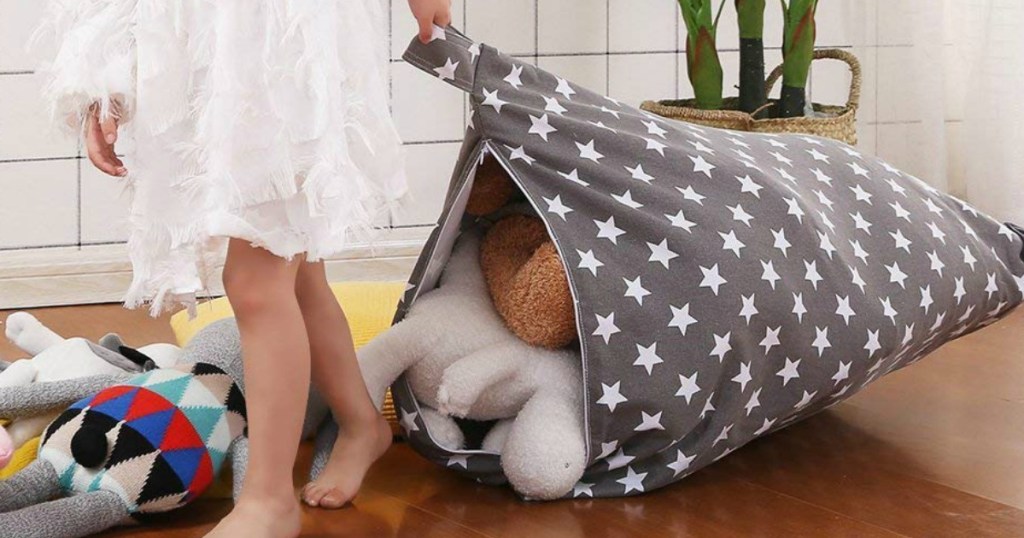 As a parent, it's important for me to have a functional, yet stylish way to hide all my kid's toys. And while there are many, many storage toys boxes out on the market, I thought it would be fun to share some untraditional and unique ways to store all your kids' toys. They're so different and fun that even your kids will start to actually enjoy helping you clean up. 😉 That's a total parent win if you ask me!
---
1. Drawstring mat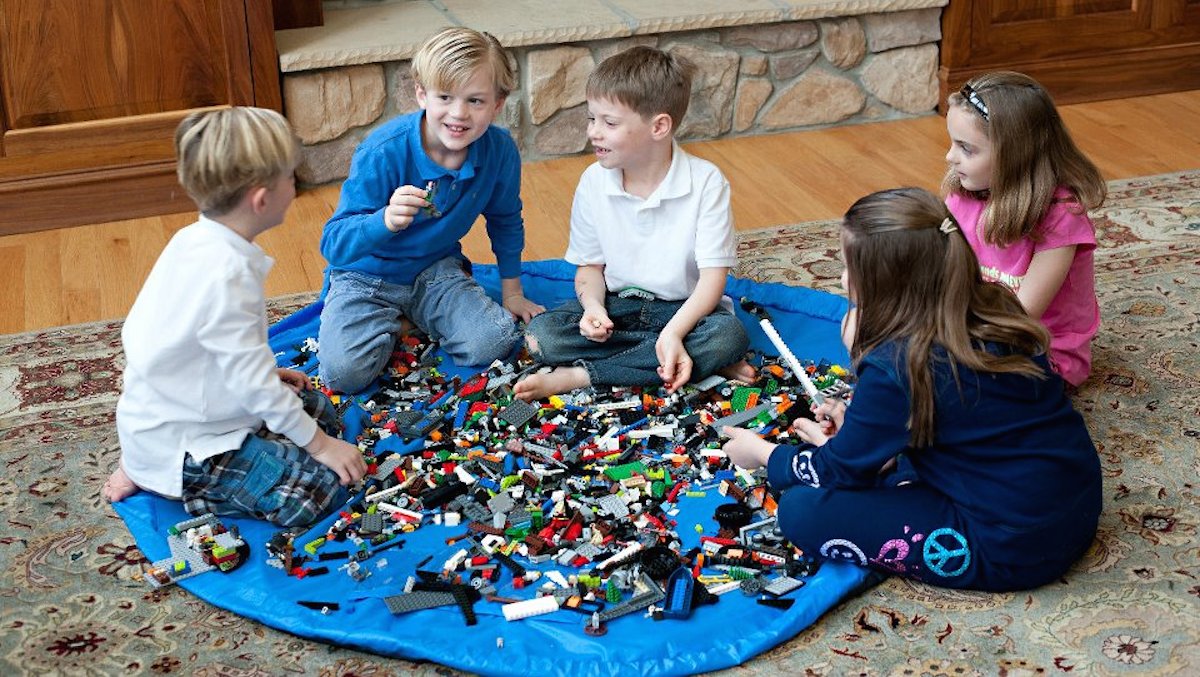 Buy it on Amazon | $59
Toys that can go literally anywhere with you and clean up in as little as two seconds is any parent's dream come true. Spread the Lay-n-Go Mat out on the grass at a picnic, take it to grandma's, or spread it out on the living floor. No matter where your kids are playing, this is a hassle-free way to clean up toys and store them anywhere.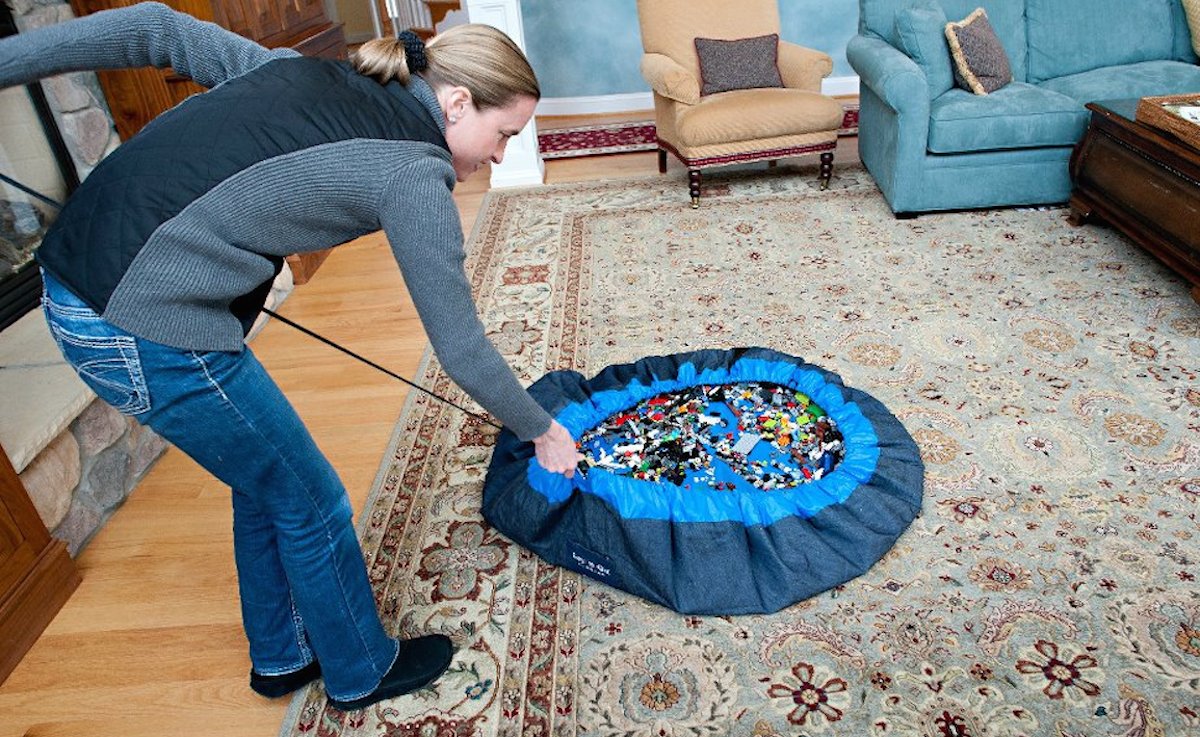 When it's closed, there's even a convenient strap to carry whenever you're on the go.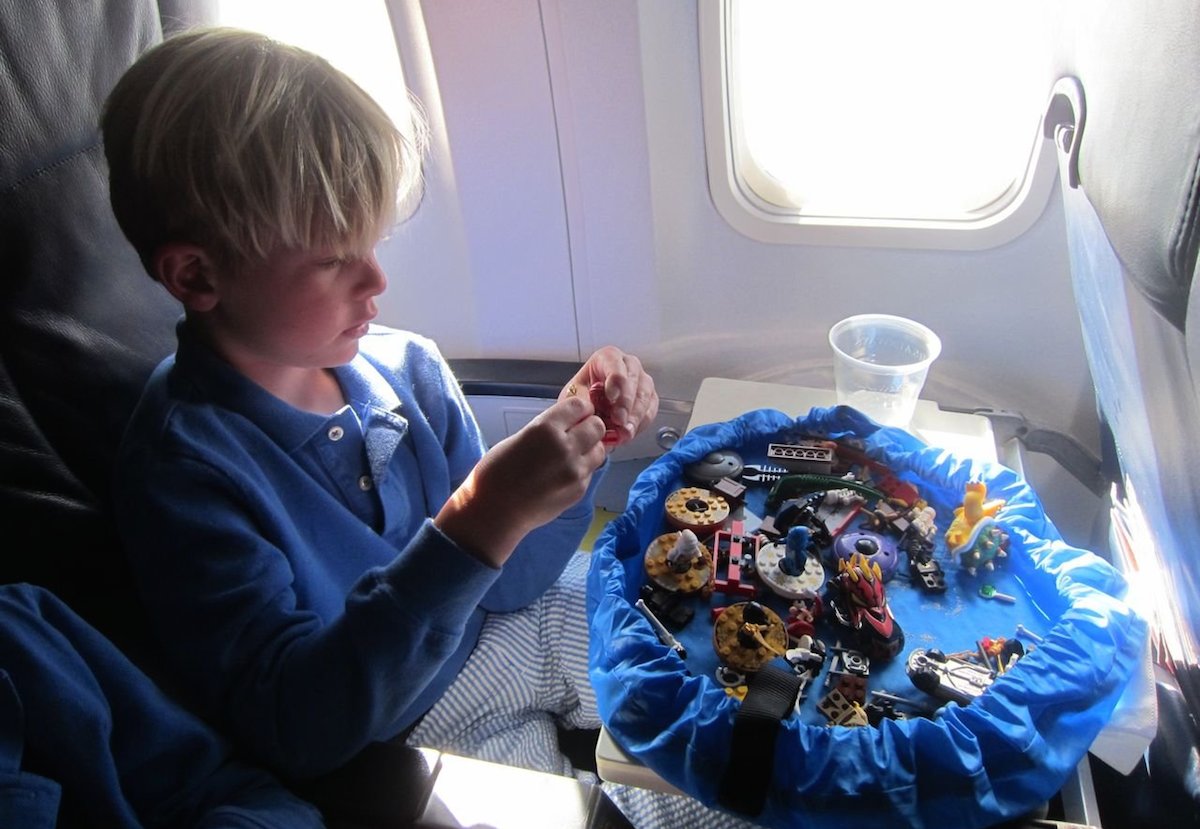 Buy it on Amazon | $20
They even make a smaller version that can easily be stored in a bookbag; perfect for on-the-go, traveling via airplane, or bringing along to preschool!
---
2. Storage ottoman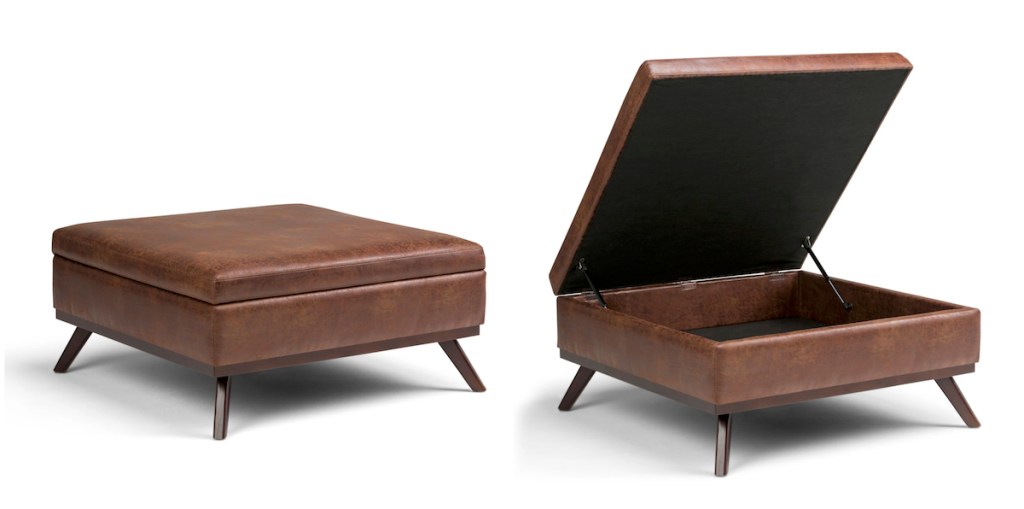 Buy it at Target | $285
I love this option for toy storage because sometimes you just don't want a big bulky toy box sitting in your pretty living room. This stunning faux leather storage ottoman at Target provides a modern and industrial look while keeping all those toys hidden – and it still has a functional and thoughtful hinged top for little fingers.
Is modern not your thing? Here are some other popular storage ottomans that I love for all types of aesthetics:
---
3. Animal-shaped baskets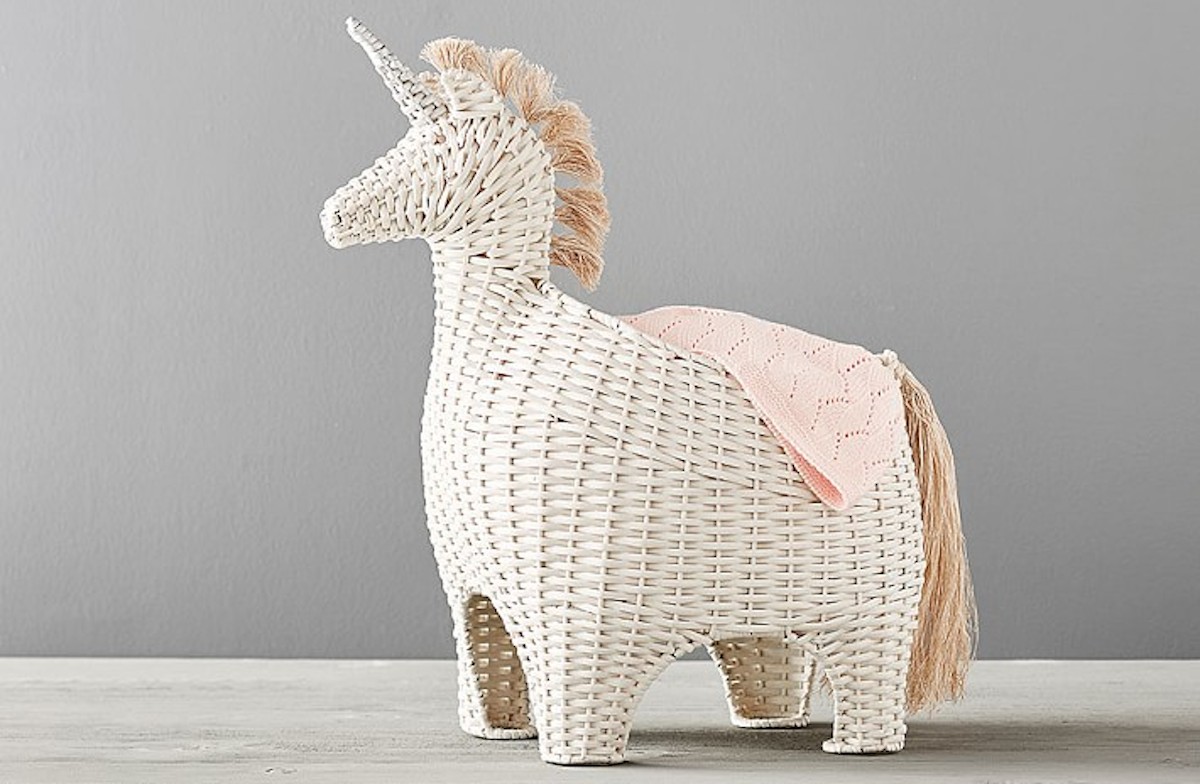 Buy it on Pottery Barn Kids | $95
I LOVE a good unicorn find, and this unicorn-shaped basket is everything! Not only does the fun shape enhance your room decor, but they're also easy on the eyes, making them a versatile piece to store toys & stuffed animals and put in almost any room in your home.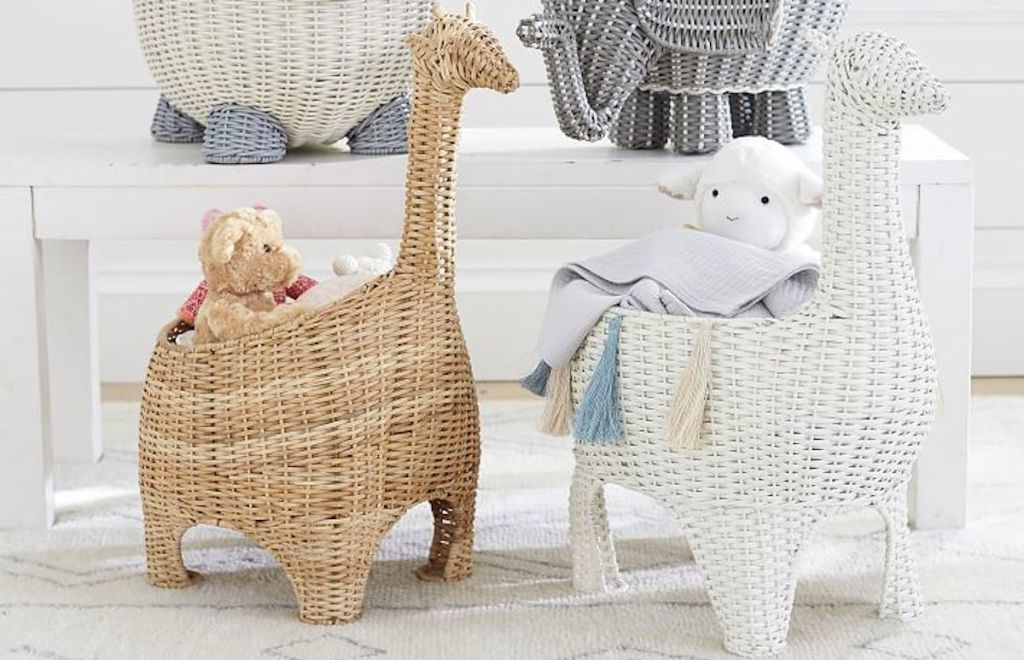 Come to find out, Pottery Barn Kids also has a ton of other adorable animal baskets like Giraffes, Elephants, Whales, and Zebras.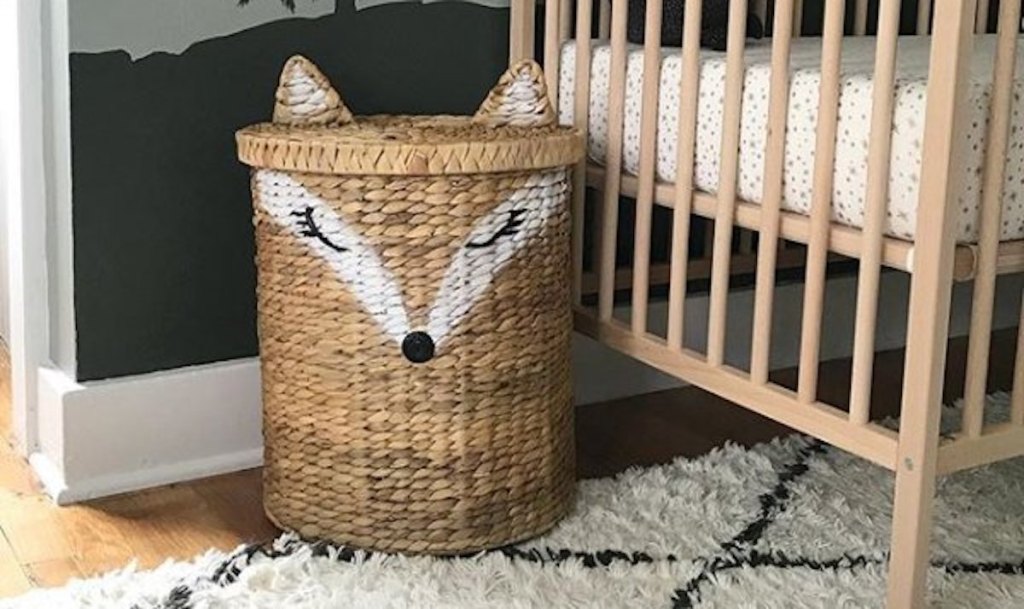 Buy it at Pottery Barn Kids | $71
They even have larger baskets which are totally irresistible like a puppy, kitty, or fox basket!
Hip Tip: If you love the Pottery Barn Kid's giraffe basket, we found this almost identical one for half the cost at Target!
---
4. Storage bean bag chairs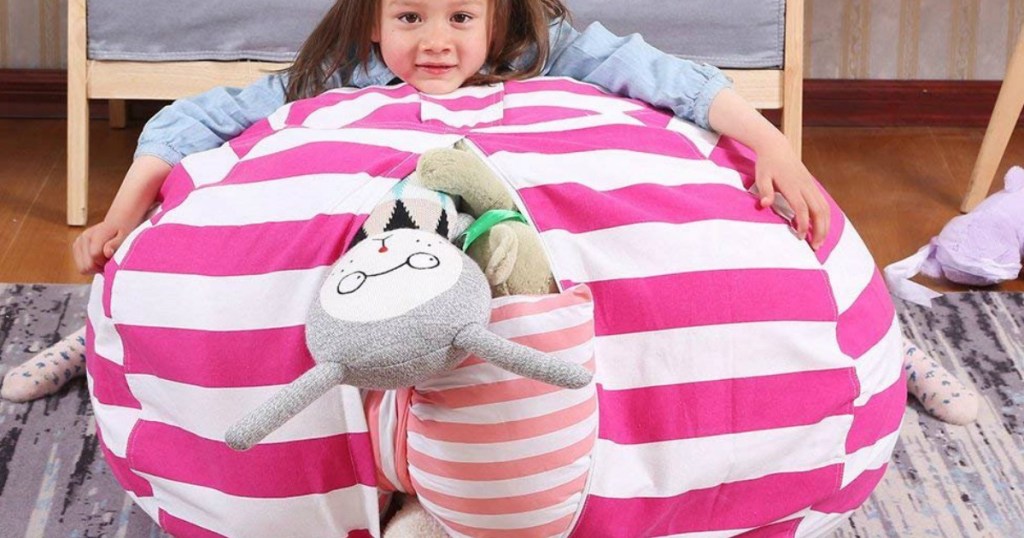 Buy it at Amazon | $19
Additional seating that kids will love and toys that are out of sight for parents. These stuffed animal bean bag chairs are a win, win invention all around! I even think your child might have actual fun cleaning up their toys since they can stuff them with all the surplus of soft, plush toys that are currently laying around your home.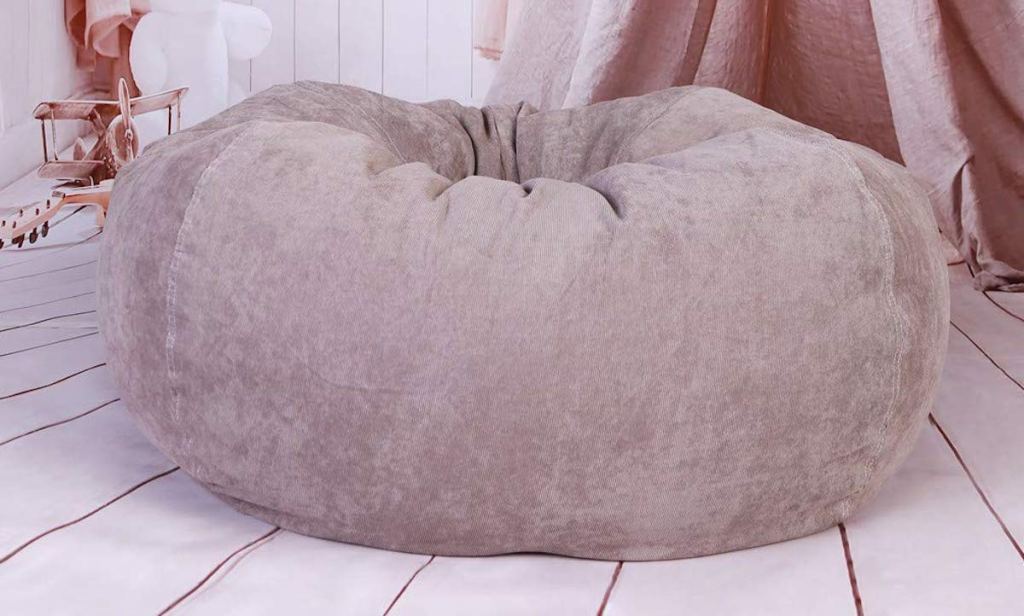 And with about over 25 different prints and colors to choose from, there is something to fit every child's unique personality and your current home decor.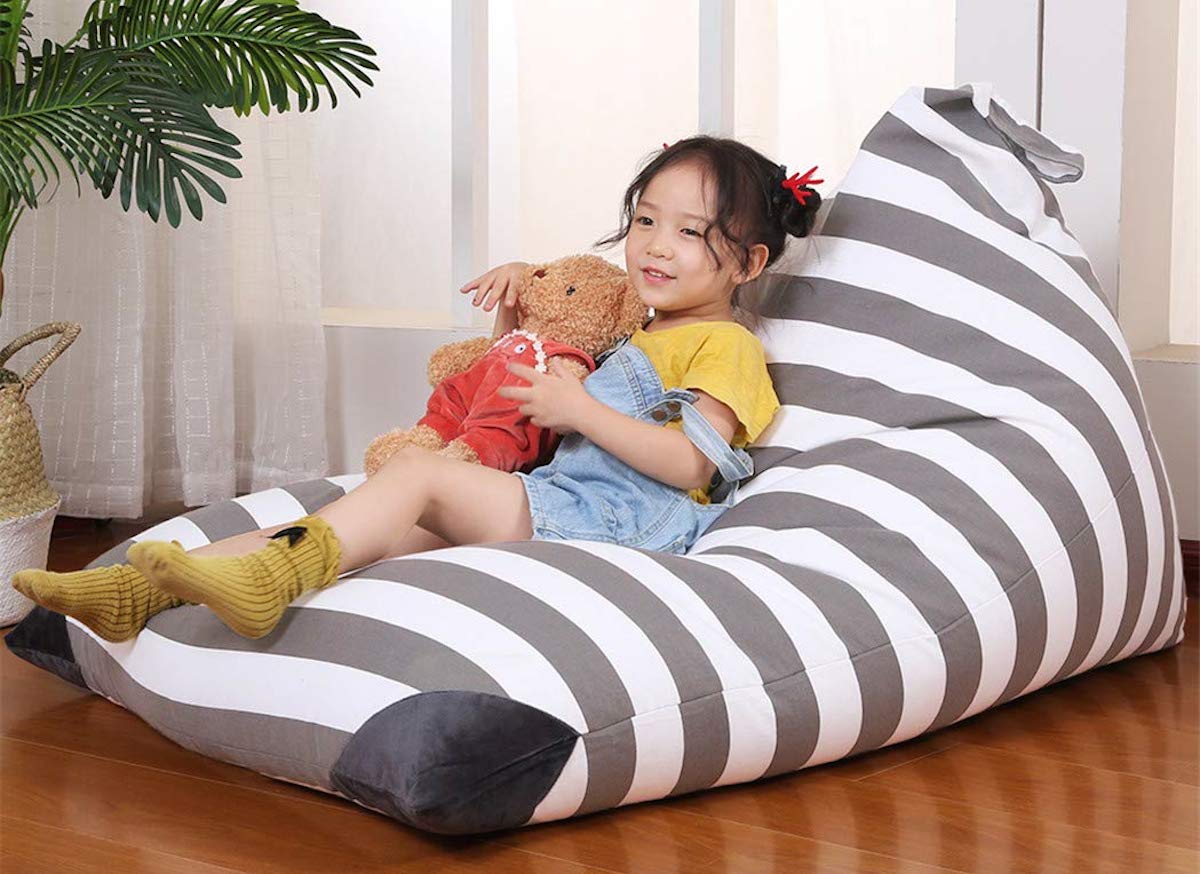 Buy it on Amazon | $29
For a similar option, I also loved this unique shaped bean bag chair, which comes in 2 different sizes, 12 different patterns, and colors, plus they can fit up to 110 plush toys with the bigger size. 😱
---
5. Toy Hammock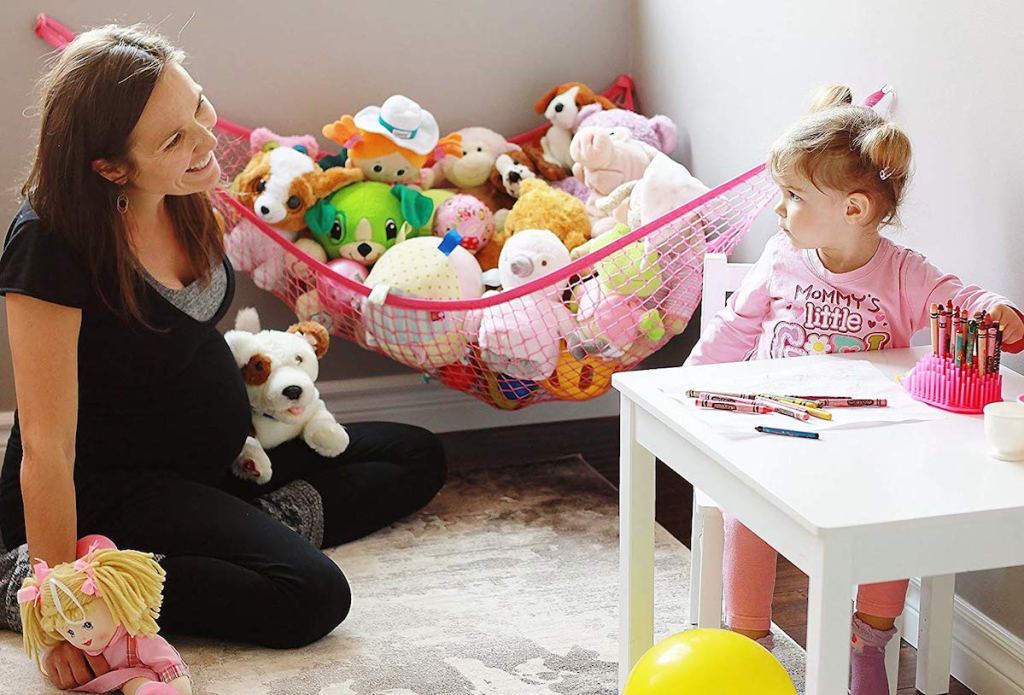 Buy it at Amazon | $15
While this may be a nostalgic form of toy storage for some parents, I can't help but still love this convenient way of stashing away all those lightweight toys and keep them off the floor. And as long as there are walls for your new hammock, you can easily assemble it in any room in your house – or, for a more concealed toy storage option, put it in a closet!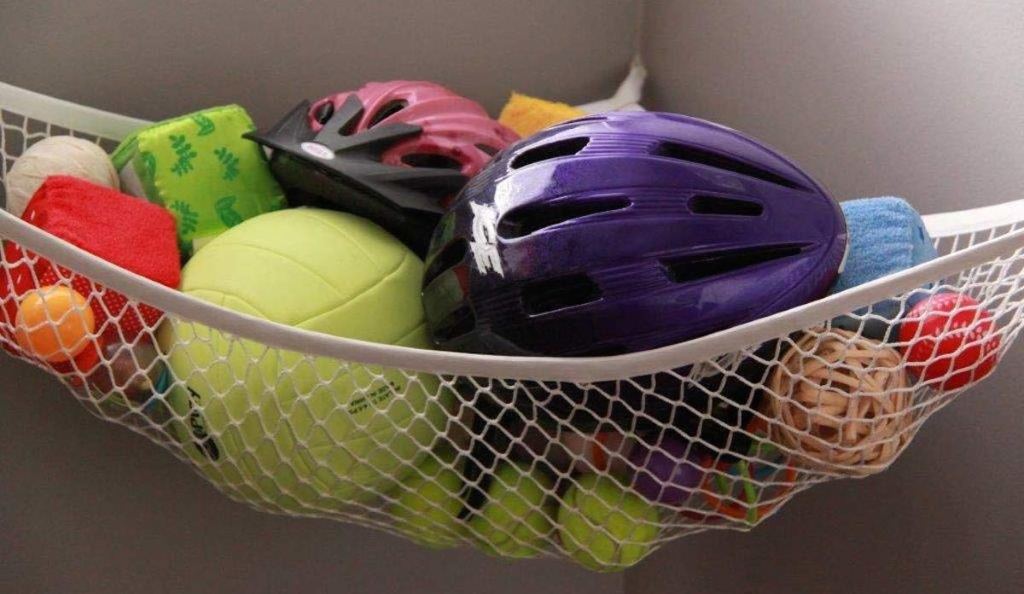 These hammocks also won't take up unnecessary space in baskets, bins, and other places you might need to store additional kid's stuff. Choose from 5 different colors and 2 sizes. There's something for everyone, and they'll be able to fit all the things.
---
Sara (sara@hip2behome.com) loves sharing decor that inspires people on a budget and finds joy in traveling to new places.
---
I'm loving these adorable kids throw pillows right now! And they're ALL $20 and under!