Bedding 101: All About Duvet Covers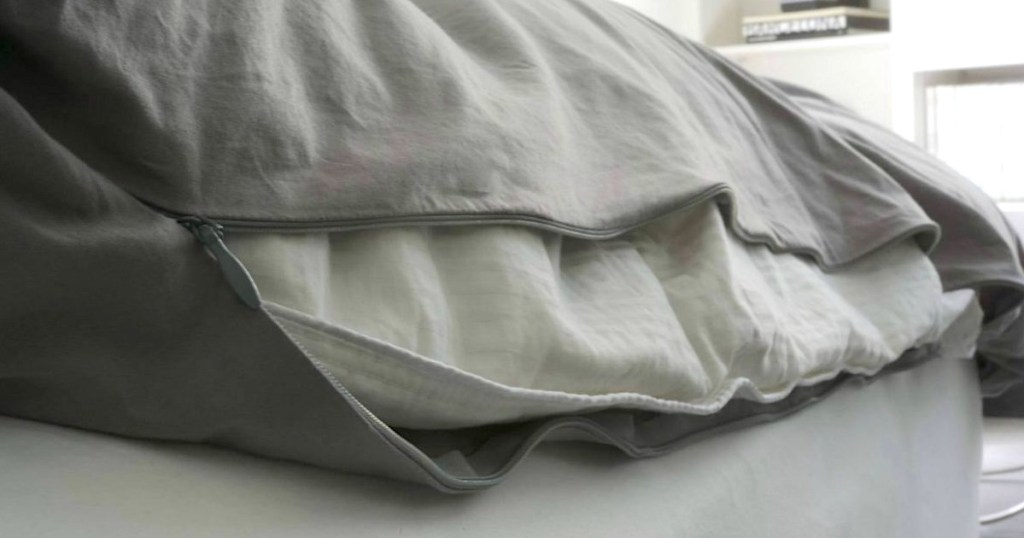 Wonder what a duvet cover is?
Or if you need one? Or what type of duvet should you buy? And even then, how do you use it (and take care of it)? Before purchasing a duvet, read our guide to duvet covers to find the best duvet cover for you and your needs!
---
1. What is a duvet cover?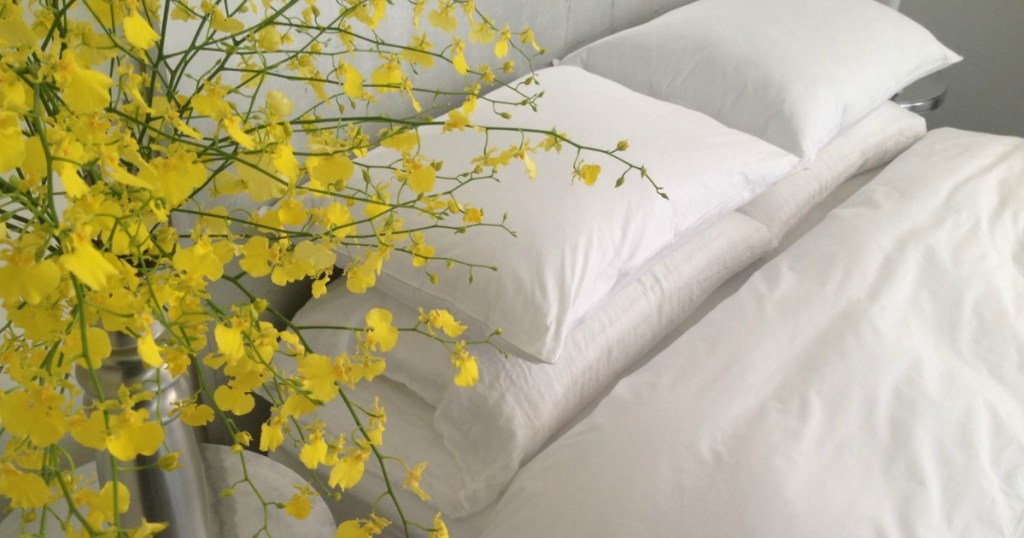 A duvet cover is essentially a pillowcase for your duvet. It protects your duvet during use and typically serves as a functional addition to a bed during different seasons and temperatures. Duvet covers also serve a decorative function and can add to the design and beauty of your bed's overall appearance.
---
2. The difference between a comforter and a duvet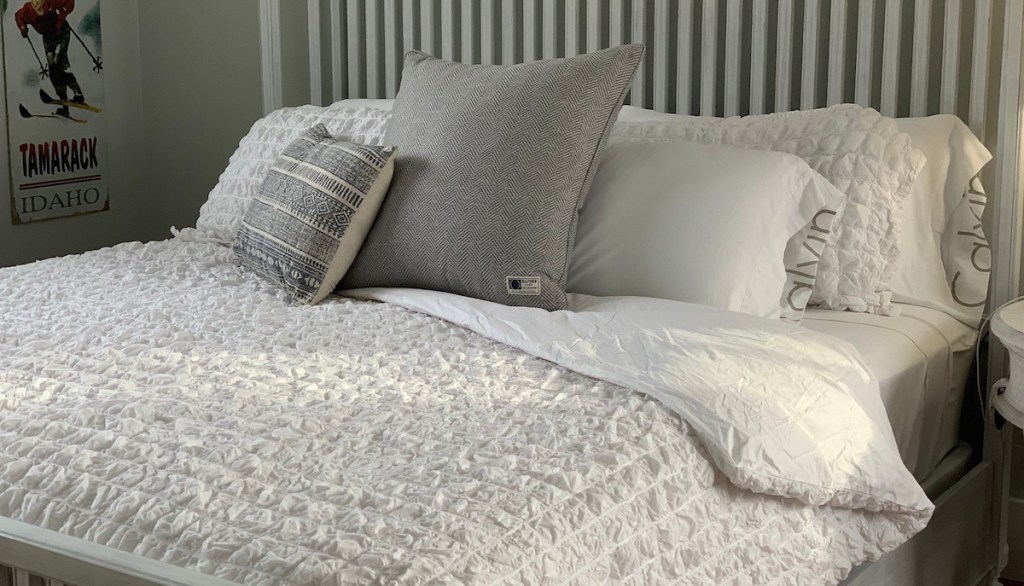 Both a duvet and a comforter sit on top of your bed; however, they're often mistakenly assumed to be the same thing (they're not). The main difference between the two is that a comforter is meant to be used with sheets. A duvet is meant to be used with a cover and does not need to be used with sheets. Another difference? Comforters often come with more decorative options and textures, whereas duvets are typically white. That said, both duvets and comforters can be used with a duvet cover.
---
3. How to use a duvet cover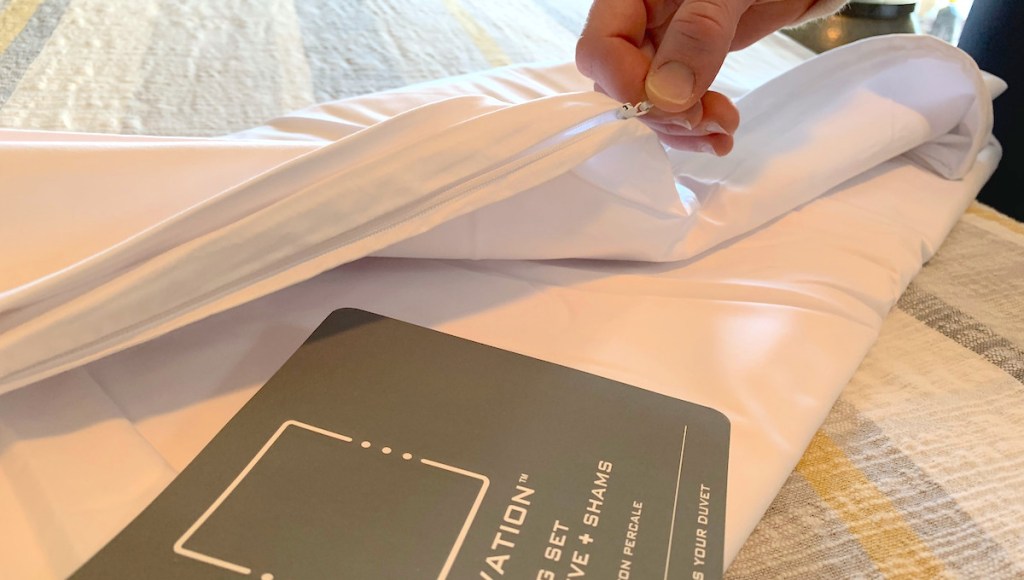 A duvet cover has either buttons or a long zipper on one end of the cover. This allows for easy access when putting your duvet (or your comforter) inside. Most duvet covers will have ties on each corner so that you can keep your duvet in place and from slipping around during each use. Once you have the duvet in place, zip or button the end and place the covered comforter on your bed!
Hip Tip: When I put my duvet cover on, I always turn my cover inside out, and I lay my duvet on top so that it matches up with all four corners. Then I tie each corner and turn it back right side out. Voila!
---
Using a duvet cover with a comforter? Turn the duvet cover inside out and add safety pins to the corners of each side of the comforter to hold the comforter in place. Then just fold the duvet cover back out over the comforter and button (or zip) the cover shut.
---
4. Different types of duvet cover fabrics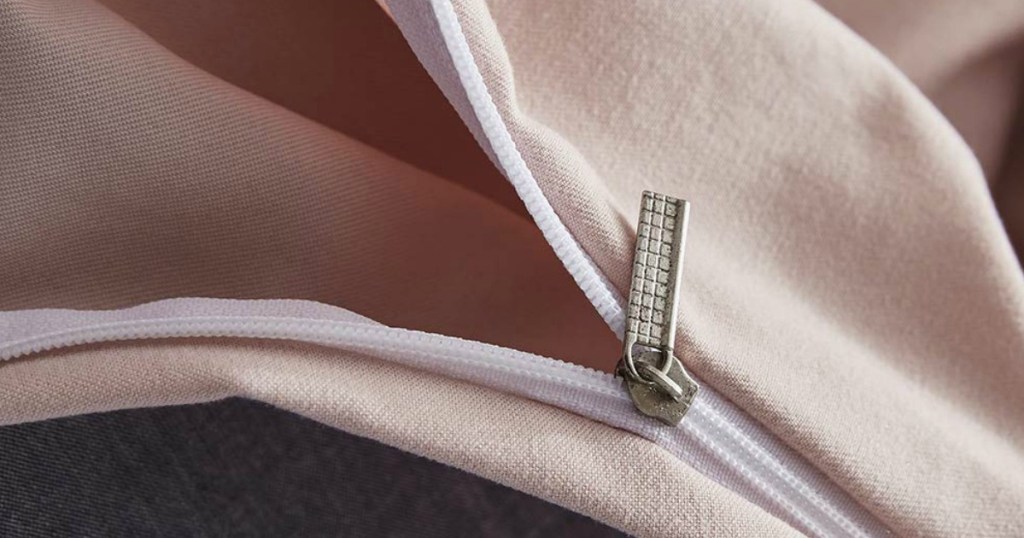 There are many types of duvet covers. The fabric you choose for your duvet cover can depend on the warmth or coolness you want during each season. Duvet covers can also add a design element to your bedroom that will pull everything together. Lucky for you, having a duvet cover will allow you the option to switch up your look from time to time, too – and for less money than switching out your comforter.
Here are the most popular types of duvet cover fabrics:
Linen –Very breathable, warm in the winter, and cool in the summer. Linen also becomes softer after every wash.
Cotton – Easy to maintain and low-maintenance. Soft and comfortable. How close together the yarn is sewn determines breathability.
Silk – Great for people with allergies and asthma because it is a dust repellent. Also breathable and great for humid climates.
Polyester and other synthetics – One of the least expensive options since these fabrics are manmade. Less breathable and great for cooler climates.
---
5. How to clean and care for a duvet cover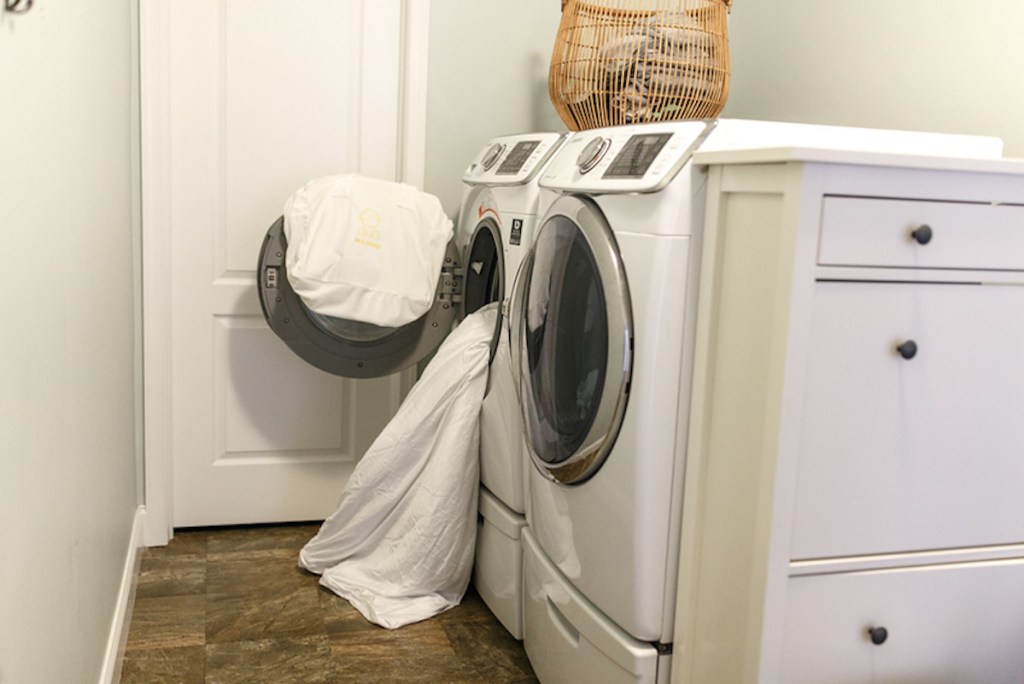 How often you clean your bedding and how you clean it will totally depend on the fabric you choose. Most synthetic fabrics are low-maintenance and can be washed at home in a regular washing machine. Some other fabrics, such as silks, may need to be dry cleaned.

It's always best to check the care tag before throwing it in the wash. And if you're in the market for a new duvet cover, make sure to check the description for wash care so that it's manageable for your lifestyle.
While care instructions may vary even with the same fabrics, here are some general washing habits for each of the most common fabrics I shared above:
Linen – Machine wash or hand wash on low with lukewarm or cold water (soft water is preferred). Tumble dry low or line dry.
Cotton – Machine wash with cold or hot water. Hot water is great for killing allergens and cold will help preserve the fabric and colors. Tumble dry low.
Silk – Normally dry clean only.
Polyester and other synthetics – Machine wash with warm or cool water on normal or delicate cycle. Tumble dry low.
---
6. Looking for a new duvet cover?
Here are three duvet covers, based on price range, that our team tested (and why we love them!):
1. Budget-friendly duvet cover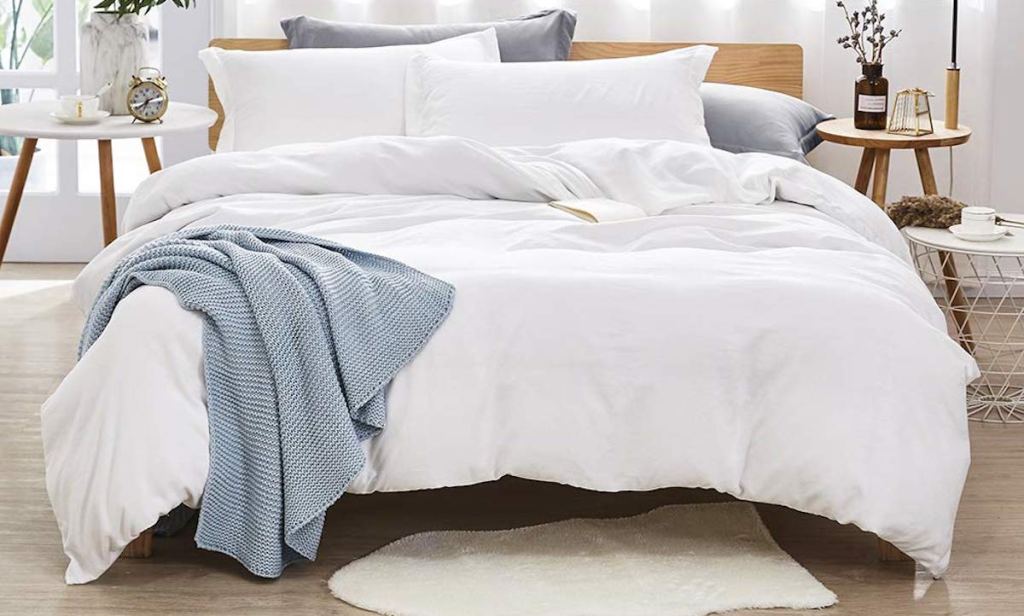 "This duvet feels great, and it's really soft. You really can't beat the quality for the amazing price! It doesn't have ties on the inside, but that wasn't a deal breaker for me (see safety pins hack under #3). Plus if I really wanted to add them, it would be an easy DIY! I don't get hot with it, either. In fact, I actually feel pretty cool." – Angela
2. Mid-range duvet cover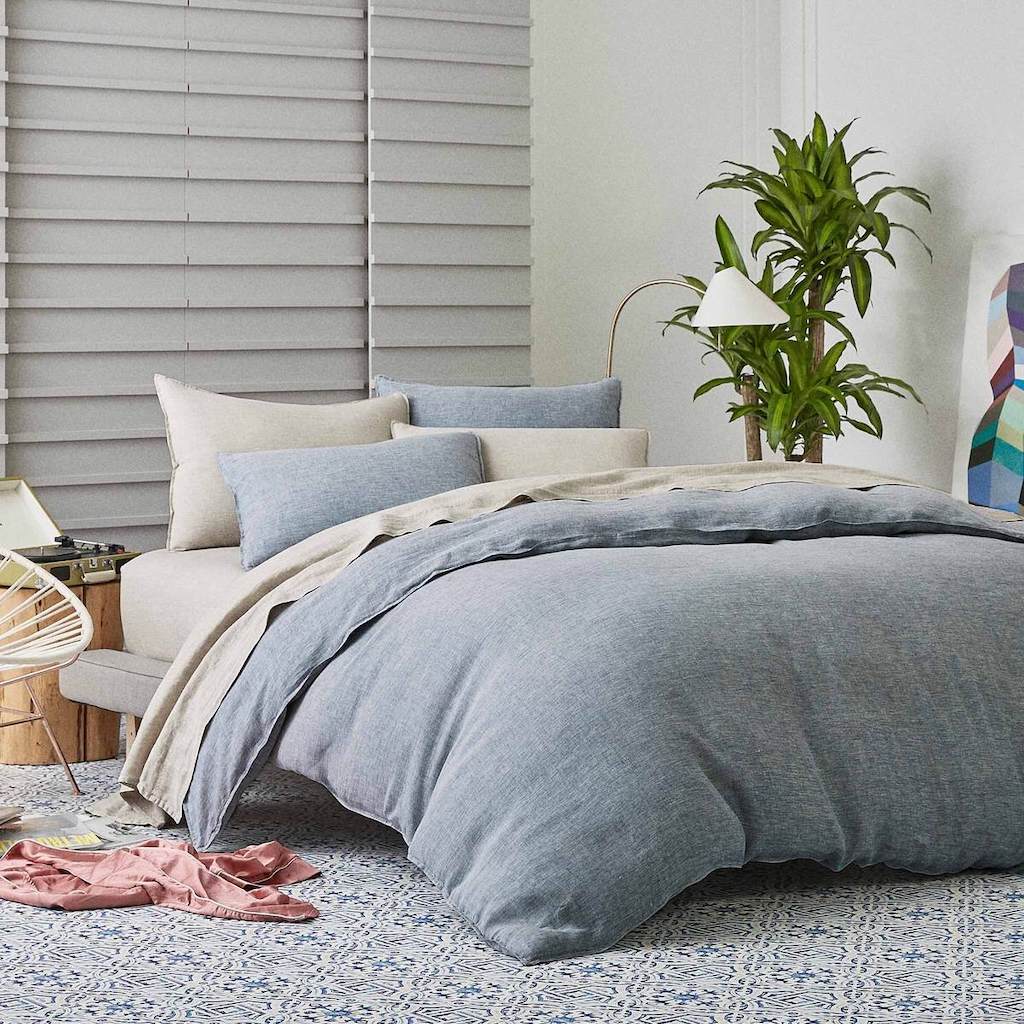 "I love sleeping with this duvet, and the price was reasonable considering it's made of linen. I just love the look of linen duvet covers. It's also just the right weight and feels heavy but didn't make me hot. And it stayed put on the bed, too!" – Michelle
3. Higher-end duvet cover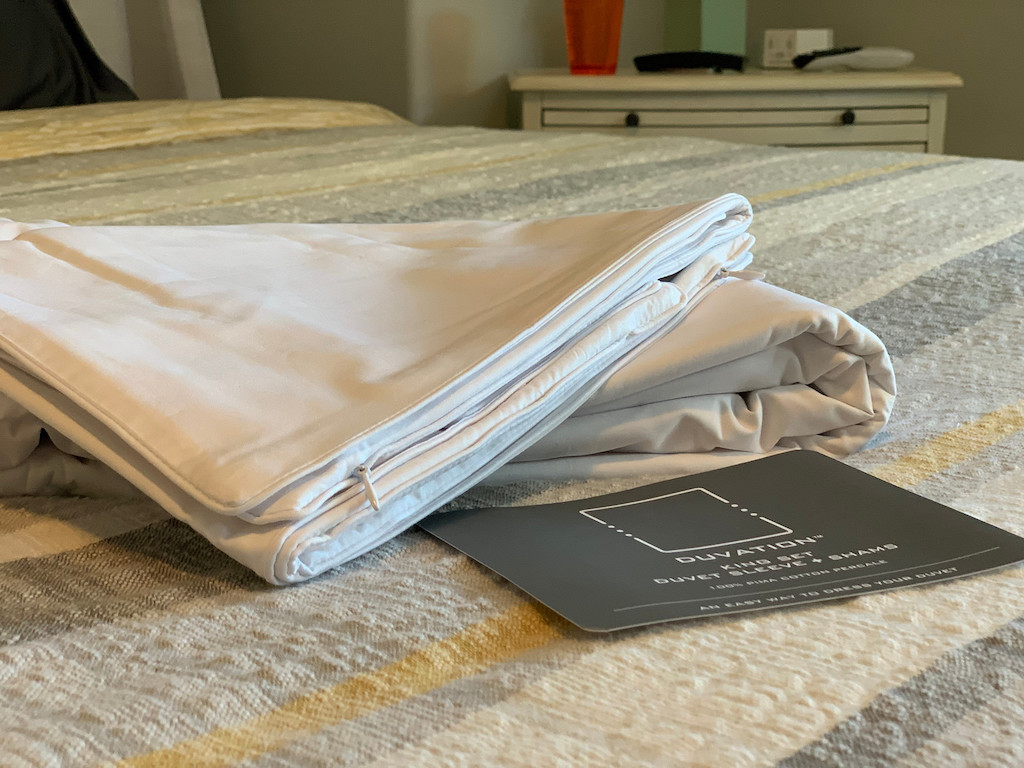 "The Duvation duvet cover is awesome! I was so excited to discover that it has tiny zippers on the left and right sides for easy comforter insertion – which I've never seen in any other duvet – and totally sets it apart from all the others. I also think the fabric is soft and overall, I'm really impressed with the quality." – Marley
---
Curious what our team is currently using? Here's what some of us had to say:
Duvets vs. Comforters
"I love the idea of a duvet, but after trying to put it back in my cover after washing and literally going inside of it, I called it quits. 😂 Plus, it's already too hot down here in Florida, so we are actually using the duvet cover as our blanket right now and skipped the duvet altogether." – Alana
---
"I love my duvet, and I like the weight of the down filled ones best!" – Michelle
---
"I have a duvet. It's a pain in the rear for sure, but it's so warm and comfortable, so I think it's worth the little bit of hassle, especially during the winter! Plus, they look so pretty!" – Jessica
---
"I personally love the look of a duvet much more than a comforter. I feel like I'm climbing into a cloud of comfort, and I love that it's much easier to clean a duvet cover in the wash versus washing a whole comforter. I often like to change up my bedding, too, so I feel like swapping out duvet covers is much easier and more affordable than buying a whole new comforter." – Collin
---
"Duvet all the way! I like to wash mine often. It's way less bulky in the wash than a comforter. Plus, I'd worry that a comforter would show more wear and tear from regular washing compared to a duvet, which is designed to be laundered regularly." – Marley
---
"I feel like I am constantly going back & forth, but I really like the look of the duvet better, so usually go with that for superficial reasons." – Amber
---
"I love the look of my duvet cover and the warmth from my down insert. Yes, it's a pain to change, but I think washing a comforter would be even more of a pain honestly!" – Sara
Comforter vs. Duvets
"Comforter all the way, because I'm not limber enough for bedding yoga. #DownwardDuvet" – Jamie
---
"I definitely prefer a comforter. My youngest has a twin duvet and I HATE it. Half the time, I don't even put the comforter back in after washing because it's such a pain."  – Jill
---
"I despise using duvets because, as Jamie said, you need to know bedding yoga! Haha! I love to use a comforter, and since I use a flat sheet, it stays cleaner in my opinion." – Jennifer
---
"I sleep with a comforter because it drives me nuts how a duvet never seems to stay in place. But then again, maybe I'm just a crazy sleeper. 😜" – Angela
---
"I prefer easy comforters for the kids, so they can easily make their beds. We currently have a comforter, and I feel like the duvet covers are sometimes too big for the insert and that I'd be sweating to death at night if I had all that fluffiness on me. 😂" – Lina
The verdict?
Duvets – 7 vs. Comforters – 5
So it's pretty clear to see what our team prefers to snuggle up with at night! But enough about us…
---
What do you prefer to sleep with on your bed?
Let us know in the comments below!
---
Sara (sara@hip2behome.com) loves sharing decor that inspires people on a budget and finds joy in traveling to new places.
---