Here are 5 of the Best Ice Cream Makers – So You Can Indulge at Home!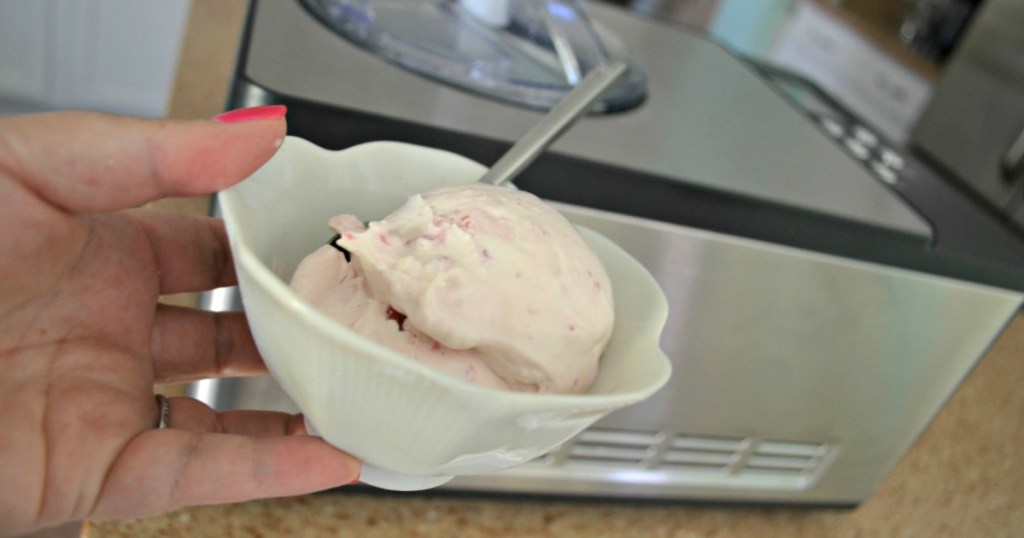 I scream, you scream, we all scream for ICE CREAM! 🍨
There's nothing better than eating delicious, homemade ice cream on a hot, summer day! Whether you're an ice cream addict or just enjoy making your own low-carb ice cream from time to time, an ice cream maker is an awesome kitchen gadget worth splurging on! It also makes a fun gift idea for just about anyone!
Here are 5 of the best ice cream makers…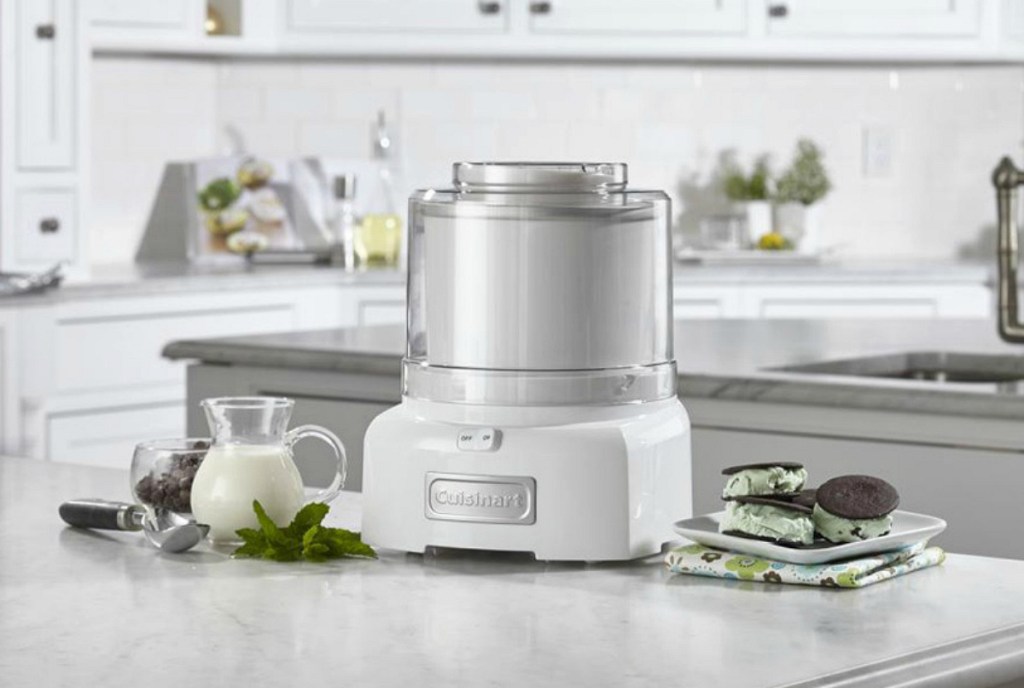 With the Cuisinart ICE-21 1.5-Quart Ice Cream Maker, you can easily make your favorite frozen yogurt or soft serve ice cream at home in just 20 minutes or less! Simply add your ingredients to the pre-frozen bowl, turn it on, and let the machine do the rest! Then enjoy a frozen, delicious treat!
"The ice cream maker worked great! We used the basic vanilla ice cream recipe that came with the machine and it was delicious! The consistency was perfect and all of our family enjoyed it. You do have to plan a bit ahead to make sure the bowl is frozen (24 hours in advance), but we've been storing it in our chest freezer and it's worked well. Can't wait to make more flavors!"
---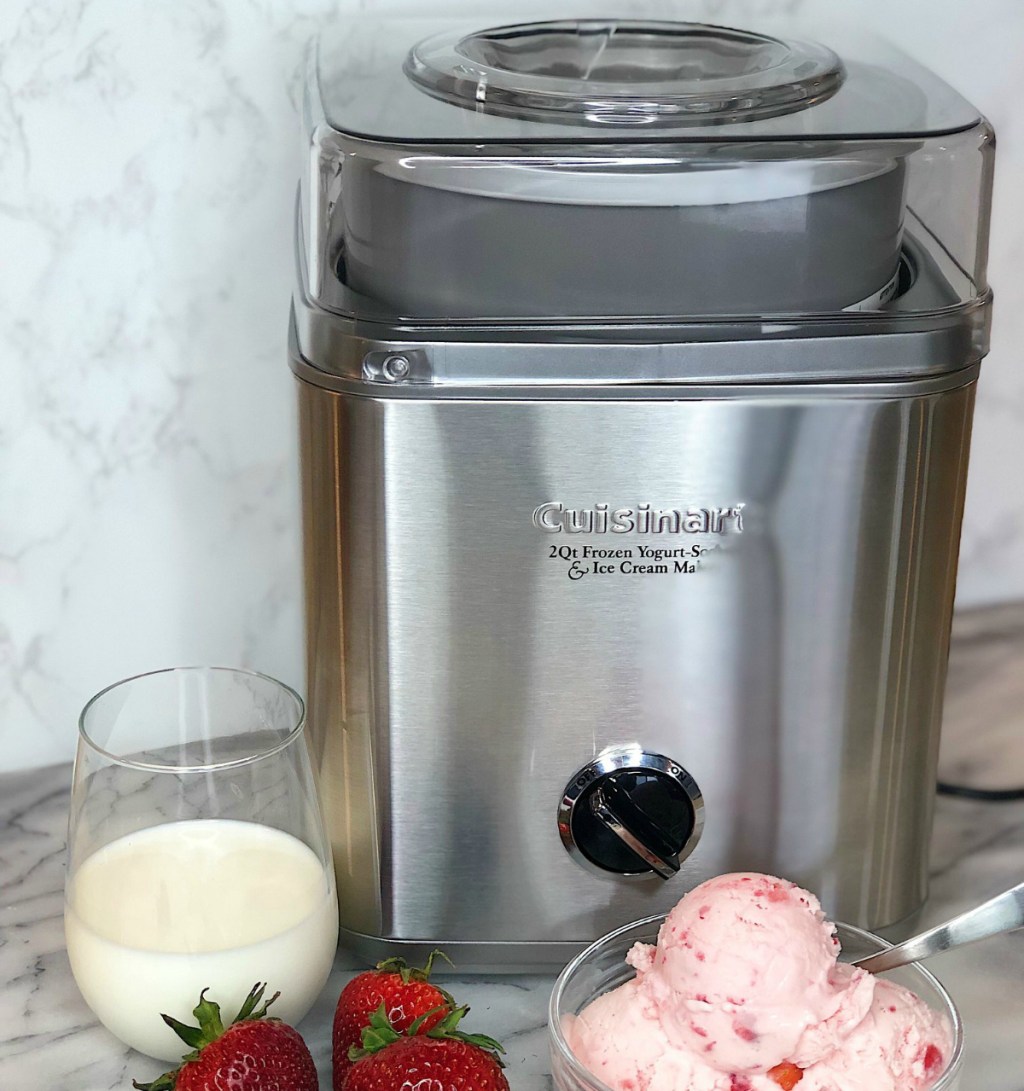 The fully automatic Cuisinart ICE-30BC Pure Indulgence Ice Cream Maker makes 2 quarts of your favorite frozen desserts or drinks in as little as 25 minutes. An integrated motor, double-insulated freezer bowl, and automatic mixing paddle do all the work. Results are consistently smooth, cleanup is easy, and the brushed metal styling is simply sensational.
"Wow!! This little machine is fantastic. I have only made the kind of ice cream that you have to put ice and salt in. Not only is this 1,000 times easier, but the ice cream tastes so much better. I have tried various recipes from the book and improvised on a few of my own. I've had great results each time. It doesn't take up much room on my counter and it makes about as much noise as the dishwasher running. "
---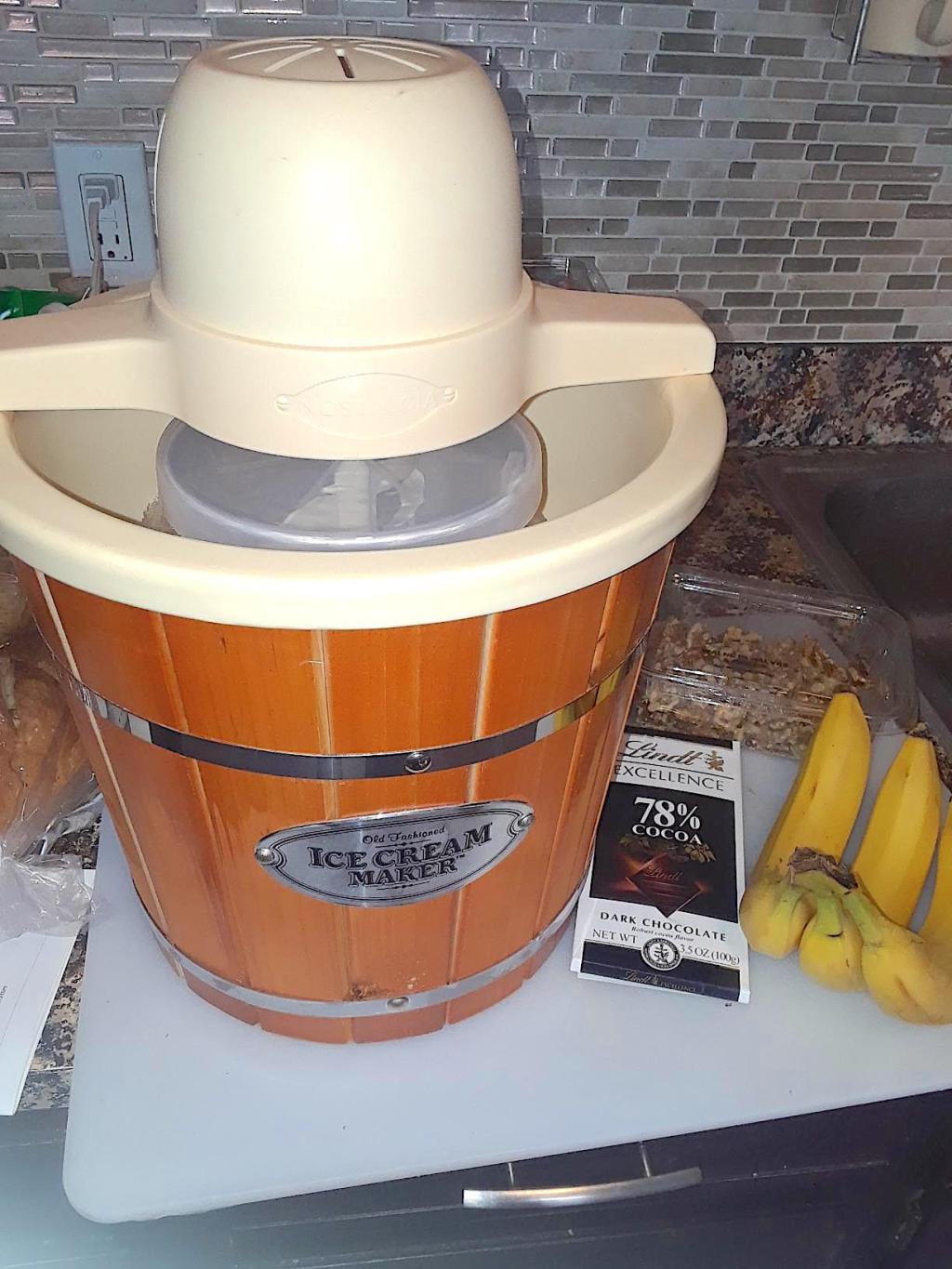 Reminiscent of the old fashioned ice cream makers of the past, this Nostalgia ICMP400WD 4-Quart Electric Wood Bucket Ice Cream Maker is a fast and easy way to make ice cream, frozen yogurt, or gelato. It features a locking motor mount, easy-to-clean bucket, and a 4-quart aluminum canister.
Simply add your ingredients into the aluminum canister, place in the middle of the bucket, layer with ice and salt, and allow the electric motor do the rest. The durable churn paddle produces delicious creamy homemade ice cream, while the easy-clean plastic liner provides easy cleanup.
"Received this ice cream maker in time for 4th of July. Very easy to use and the ice cream was delicious! Have made a couple of batches and haven't had any issues. I found it helpful to pre-chill the container prior to putting the ice cream mixture in to it. Both batches took 30 minutes to churn. I was glad that I purchased the ice cream maker with the handle. Made it super easy to carry it outside."
---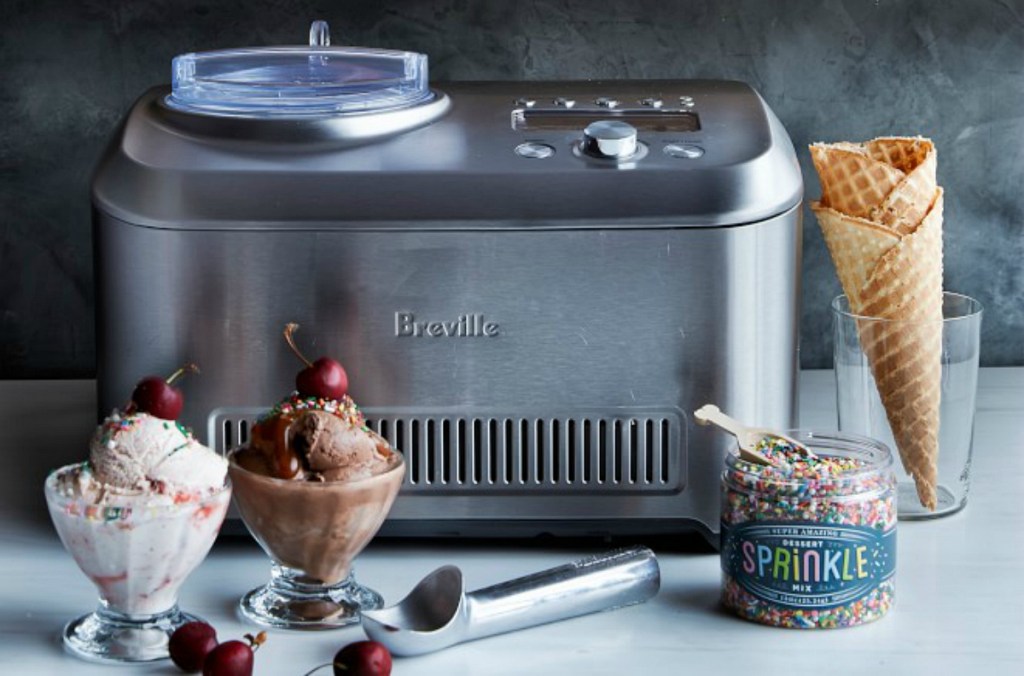 The Breville BCI600XL 1.5-Quart Smart Scoop Ice Cream Maker transforms the kitchen into your favorite scoop shop. It is the first ice cream maker to automatically sense the hardness of the mixture based on your selection, and keeps your frozen flavors at perfect temperature for up to 3 hours. Includes 12 hardness settings, such as sorbet, frozen yogurt, gelato, and ice cream.
"Worth every penny. This ice cream maker sits on our bar downstairs, and we use it to make ice cream once a week. My daughter LOVES to put the mixin's in as it churns. Clean up is easy. Best part is: no rock salt needed. It takes me 5 minutes to combine the ice cream ingredients in my Vitamix (any blender will do), and then we go downstairs, pour the mix in, press: "Power" then "start" and walk off. 75 minute later, we have ice cream."
---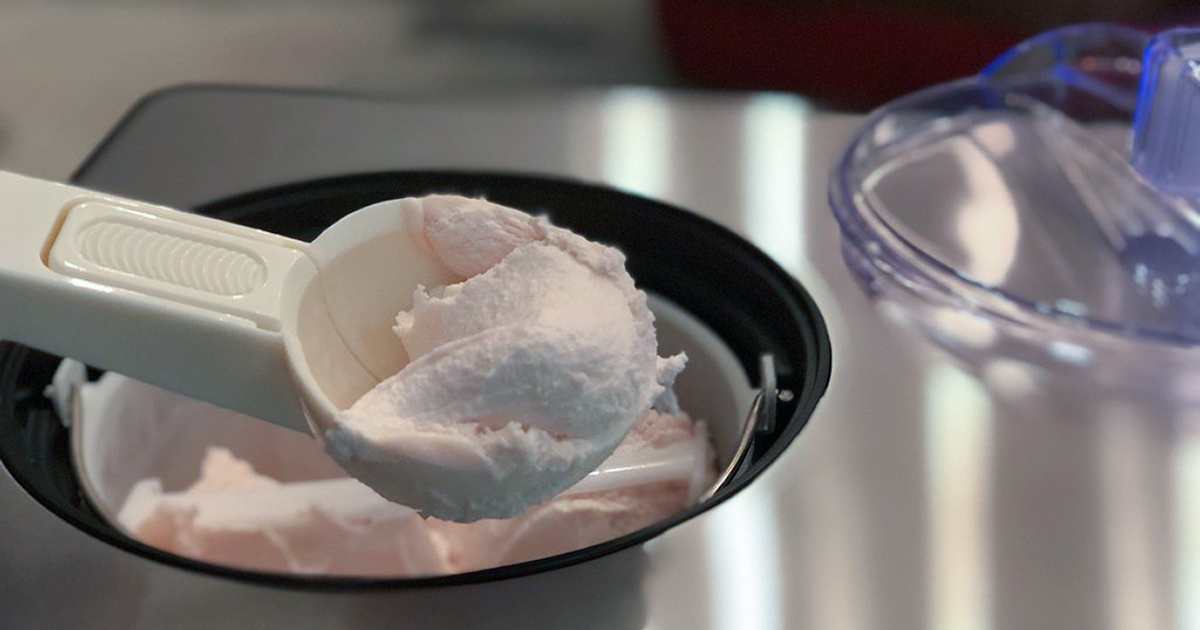 The Whynter ICM-200LS 2.1-Quart Ice Cream Maker features an extended cooling function that prevents the mixture from melting and a motor protection function that stops the motor from churning to prevent overheating or damage to the motor when the mixture becomes solid. This unit also includes an electronic timer, ice cream scoop, and easy-to-follow recipe guide.
This is Collin's favorite ice cream maker! Here's why…
"It's not just me who loves this ice cream maker… it's my whole family's favorite machine, too! It's seriously the BEST ice cream maker out there, and trust me – I've gone through a few.
This unit makes up to two quarts of delicious dessert in a single batch.
Aside from oh so delicious ice cream, it's by far the easiest ice cream maker to use, and it literally takes an hour or less from start to finish. You just mix the ingredients, pour them into the machine's container, press a button, and BOOM — homemade ice cream with barely any work
.
And clean up is a breeze, with the removable bowl and churn blade, leaving you more time to enjoy your dessert and less time cleaning the machine.
Even my team LOVES this machine! It's perfect for those of us who eat keto since we can customize the recipes to use sugar alternatives to keep our keto lifestyles and sweet tooths happy — by the way, you NEED to check out this yummy raspberry cheesecake keto ice cream recipe! Oh my…
" – Collin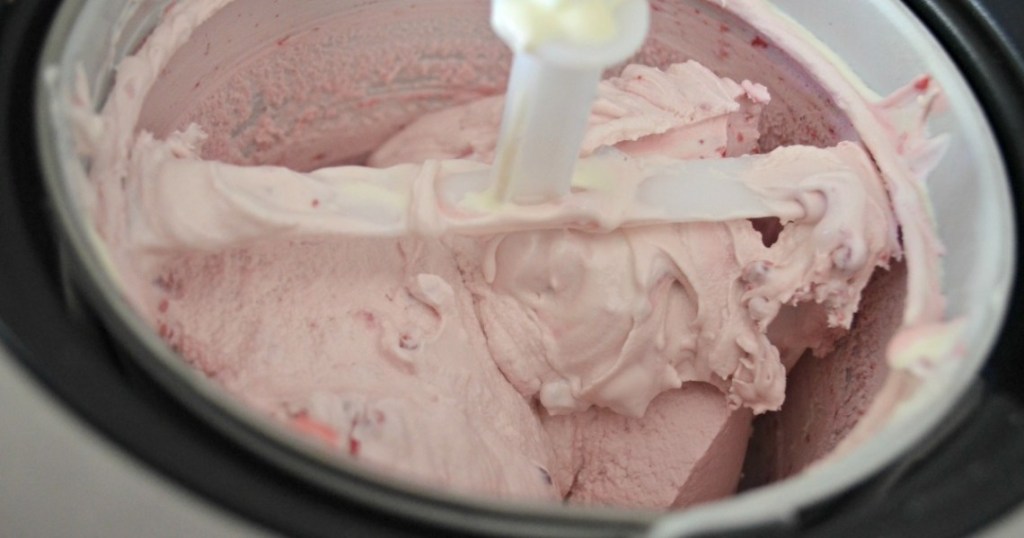 ---