TONS of Awesome Home Clearance Deals at Target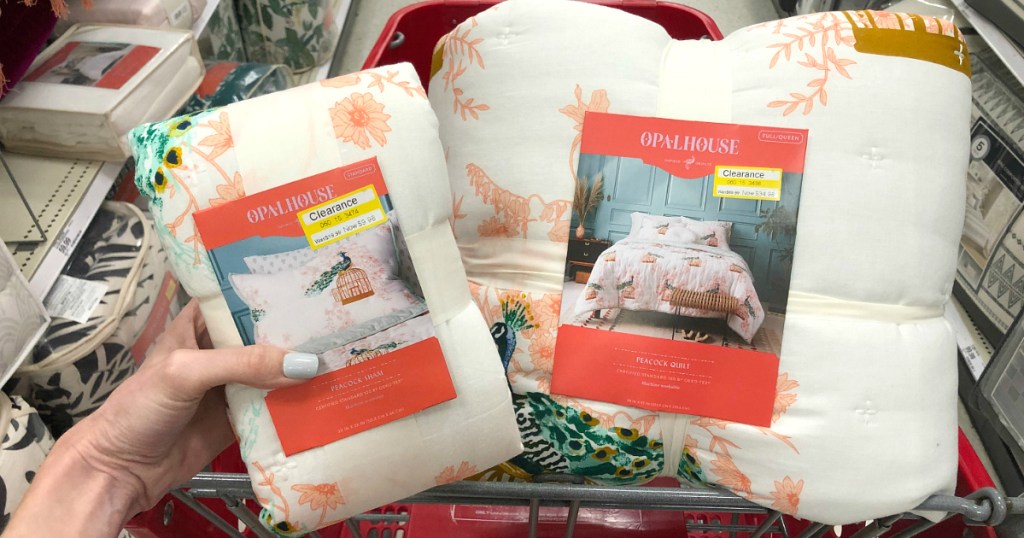 Excuse me while I run to Target!
Time to update your home décor? One of the best ways to save money on home décor, bedding, or kitchen items is to shop the clearance sales… and boy do we love shopping the clearance home items at Target! 😍
So, the next time you're headed in store (not available online), be on the lookout for select home products on clearance up to 70% off! We spotted TONS of yellow clearance tags on several of Target's exclusive home brands, including Opalhouse, Threshold, Project 62, and Hearth & Hand with Magnolia. ❤️
*HIP TIP – Before making a special trip to your local Target store, click on the DPCI # listed below, and enter your zip code to check stock and price of these items at your local store. Note that Brickseek is NOT always accurate with stock and pricing.
Keep in mind that stock and clearance prices can vary by location.
---
Opalhouse Clearance: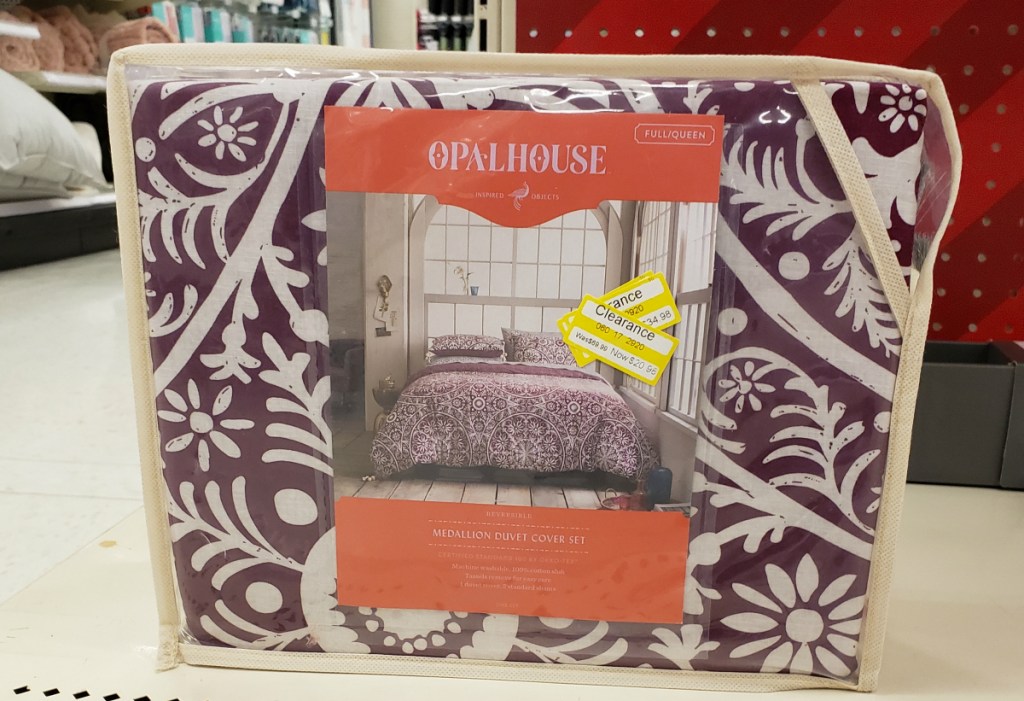 Opalhouse Merlot Reversible Medallion Tassel Duvet Full/Queen Set
Regular price: $69.99
Clearance price: $20.99
🏷

Discount: 70% off



Check inventory at your store using DCPI # 060-17-2920
---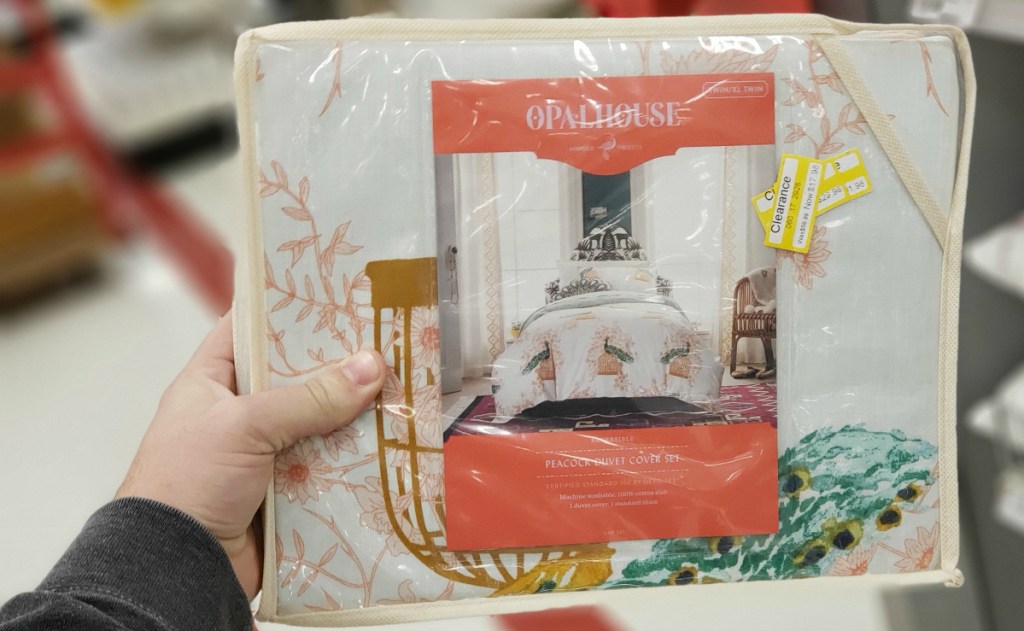 Opalhouse White Indo Peacock Twin/Twin XL Duvet Cover Set
Regular price: $59.99
Clearance price: $17.98

🏷 Discount: 70% off



Check inventory at your store using DCPI # 060-17-2928
---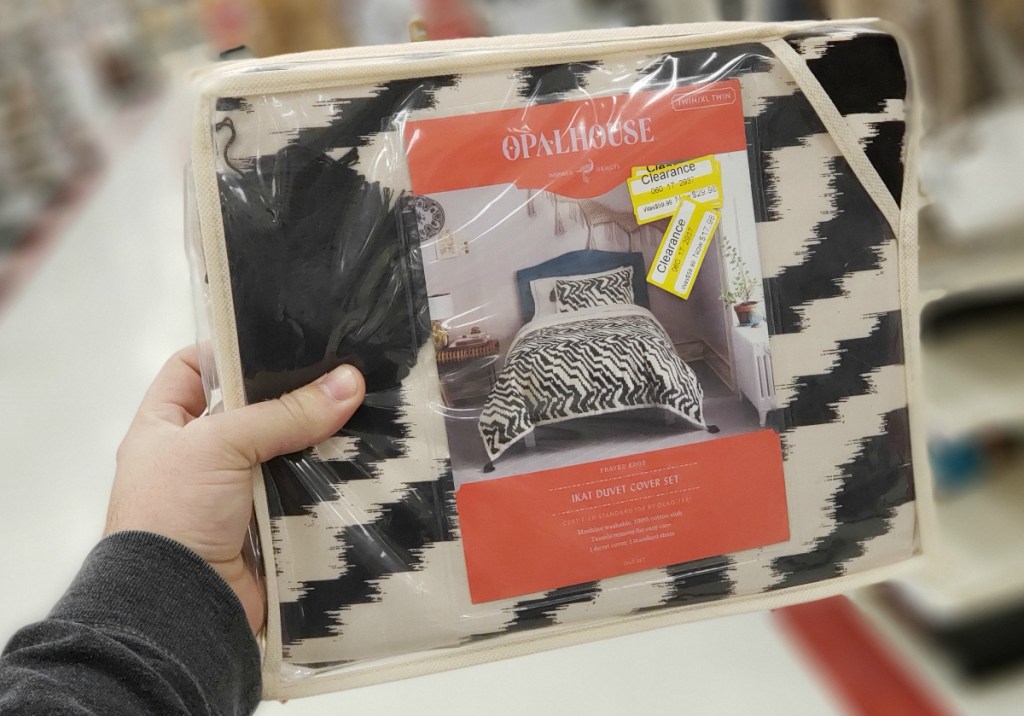 Opalhouse Black Mallorca Ikat Twin/Twin XL Duvet Cover Set
Regular price: $59.99
Clearance price: $17.98
🏷 Discount: 70% off
Check inventory at your store using DCPI # 060-17-2937
---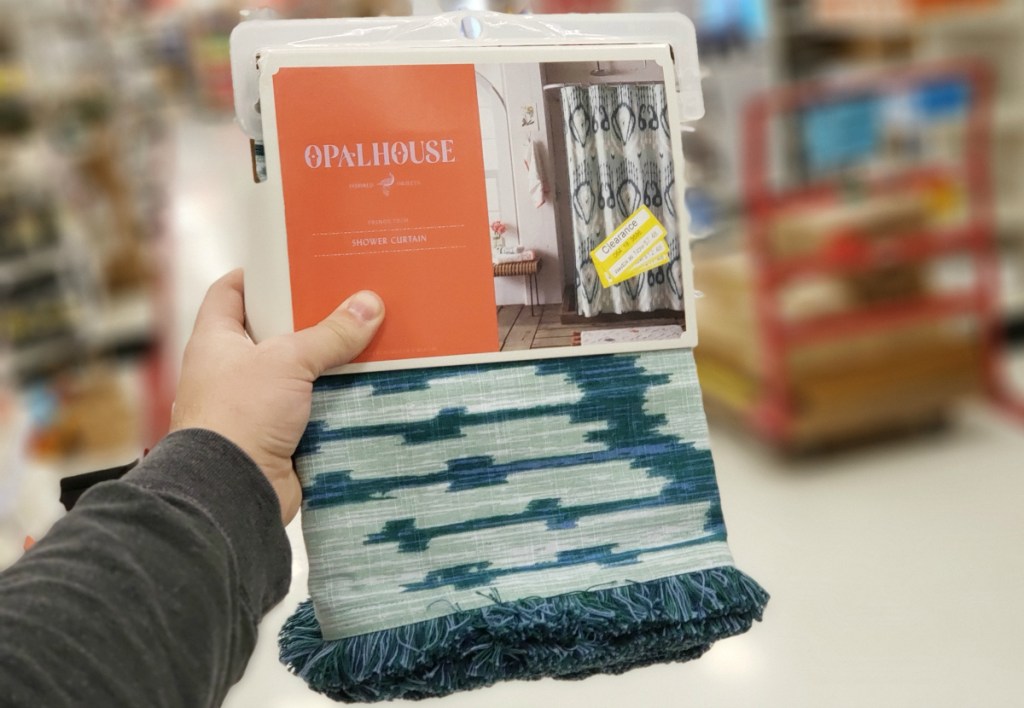 Opalhouse Ikat Shower Teal Blue Curtain
Regular price: $24.99
Clearance price: $7.48

🏷 Discount: 70% off



Check inventory at your store using DCPI # 064-18-3686
---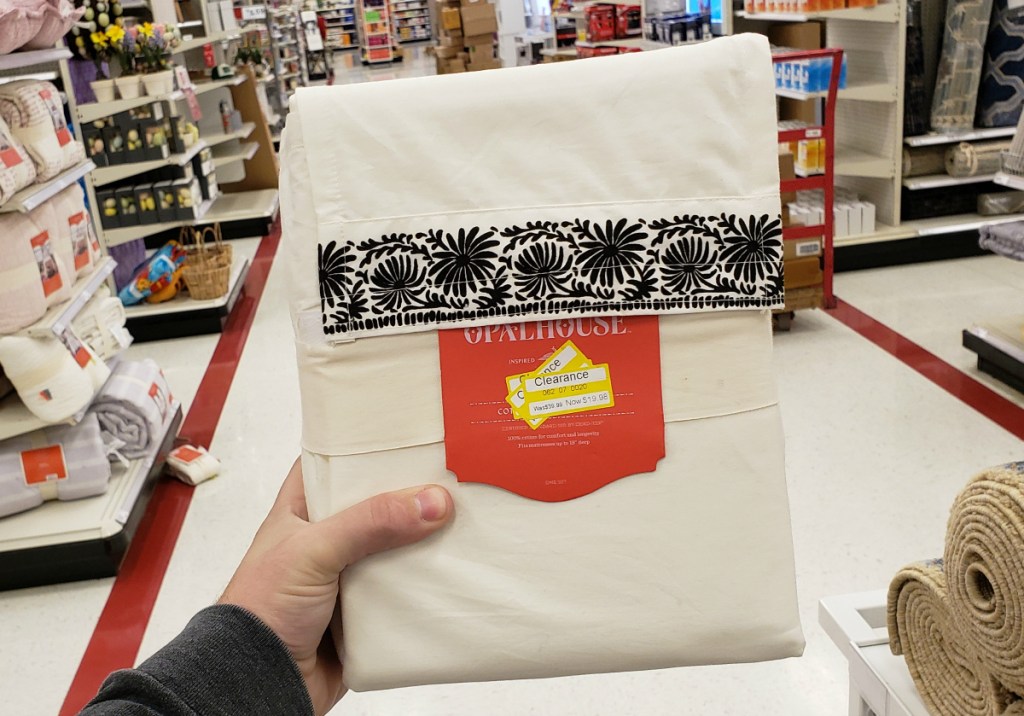 Opalhouse Cotton Percale Print Queen Sheet Set
Regular price: $39.99
Clearance price: $19.98

🏷 Discount: 50% off



Check inventory at your store using DCPI # 062-07-0020
---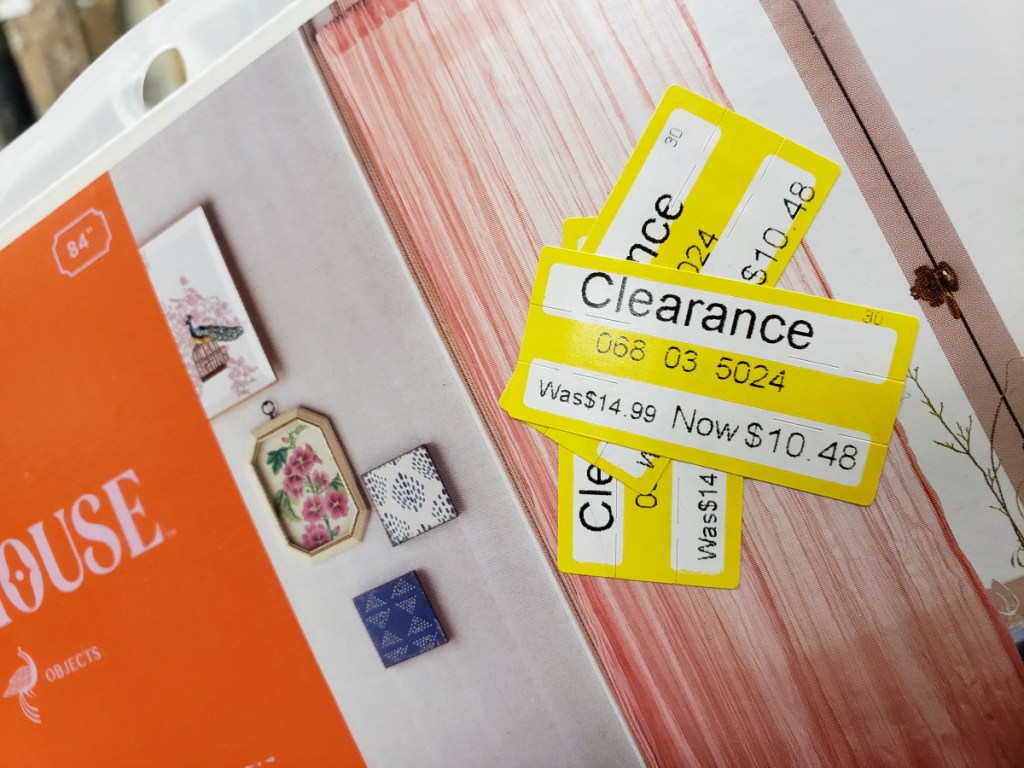 Opalhouse 84″ Crushed Sheer Peach Curtain Panel
Regular price: $14.99
Clearance price: $10.48

🏷 Discount: 30% off



Check inventory at your store using DCPI # 068-03-5024
---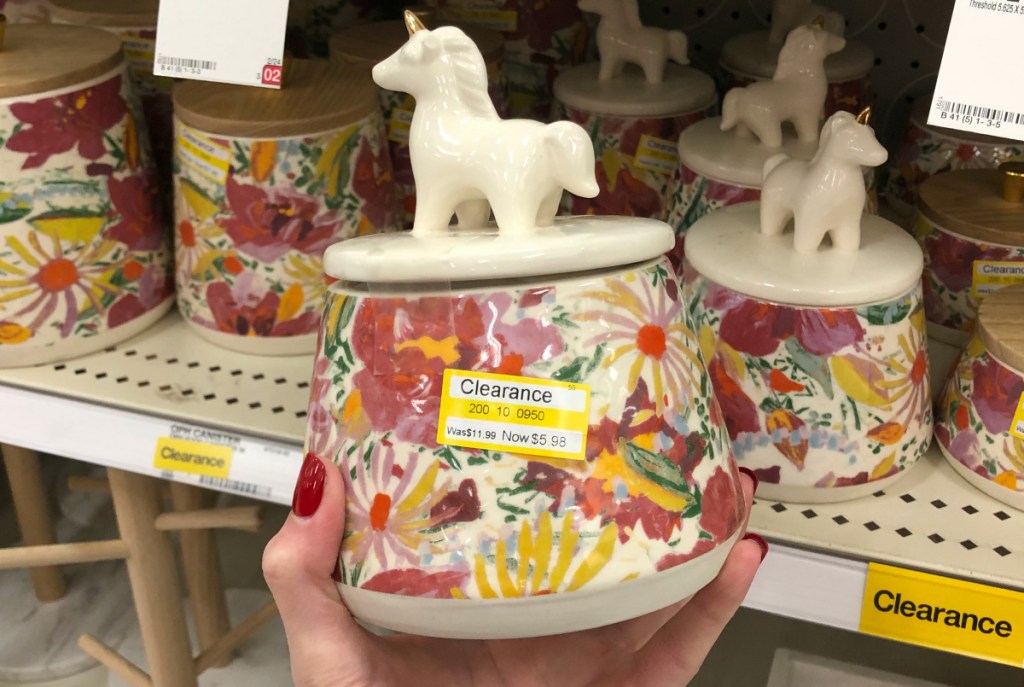 Opalhouse Floral Stoneware Container with Ceramic Unicorn Lid
Regular price: $11.99
Clearance price: $5.98
🏷 Discount: 50% off

Check inventory at your store using DCPI # 200-10-0950
---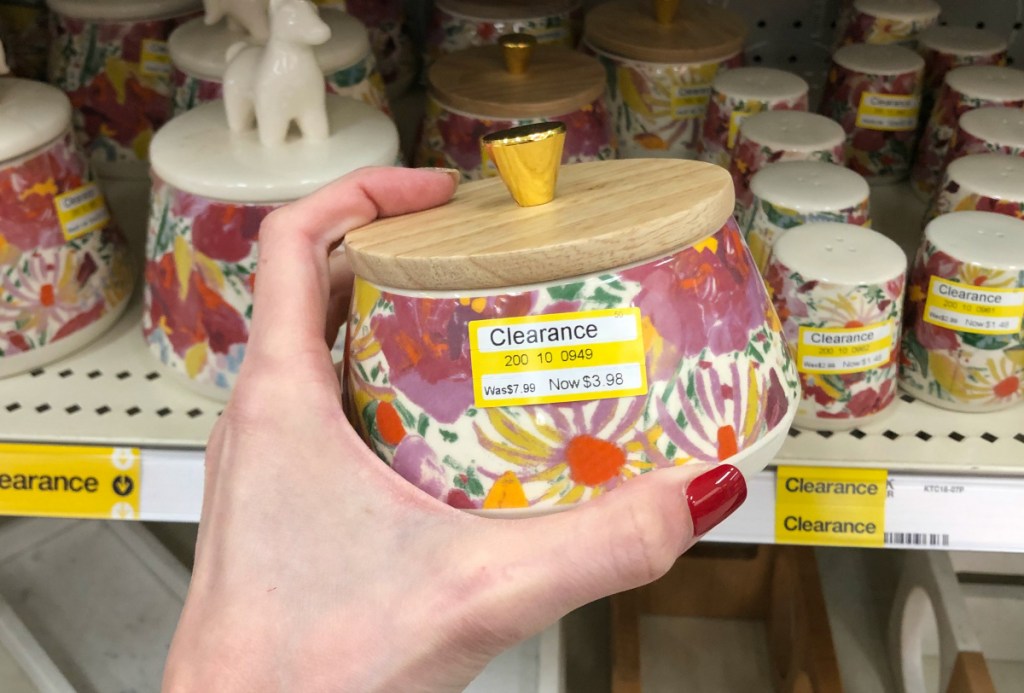 Opalhouse Small Floral Stoneware Canister with Wood Lid
Regular price: $7.99
Clearance price: $3.98

🏷 Discount: 50% off



Check inventory at your store using DCPI # 200-10-0949
---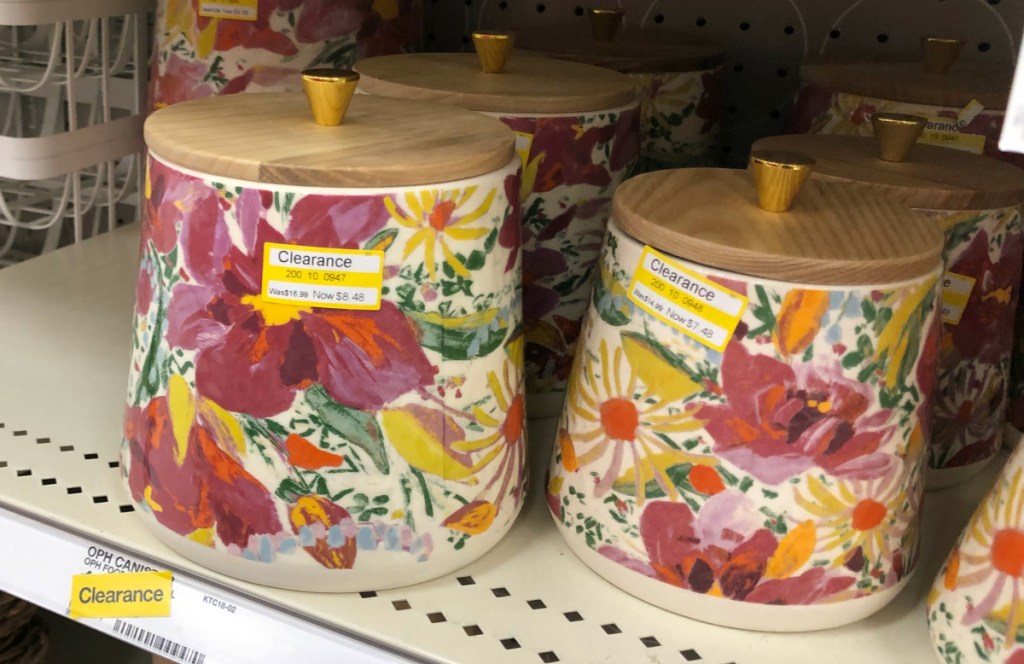 Opalhouse Medium Floral Stoneware Canister with Wood Lid
Regular price: $14.99
Clearance price: $7.48

🏷 Discount: 50% off



Check inventory at your store using DCPI # 200-10-0948
---
Opalhouse Large Floral Stoneware Canister with Wood Lid
Regular price: $16.99
Clearance price: $8.48

🏷 Discount: 50% off



Check inventory at your store using DCPI # 200-10-0947
---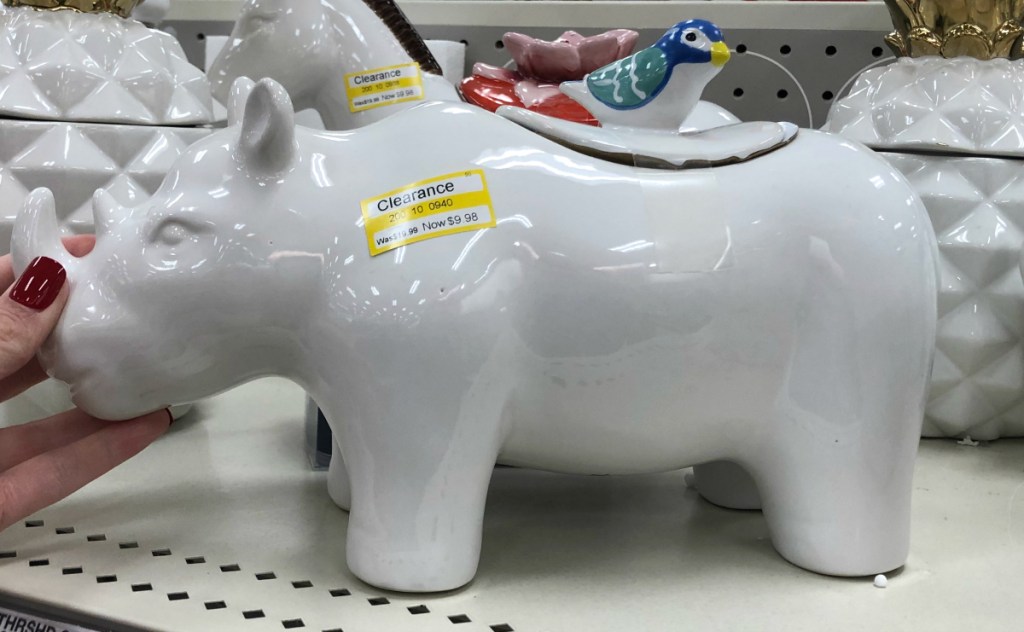 Opalhouse Rhino Ceramic Cookie Jar
Regular price: $19.99
Clearance price: $9.98

🏷 Discount: 50% off



Check inventory at your store using DCPI # 200-10-0940
---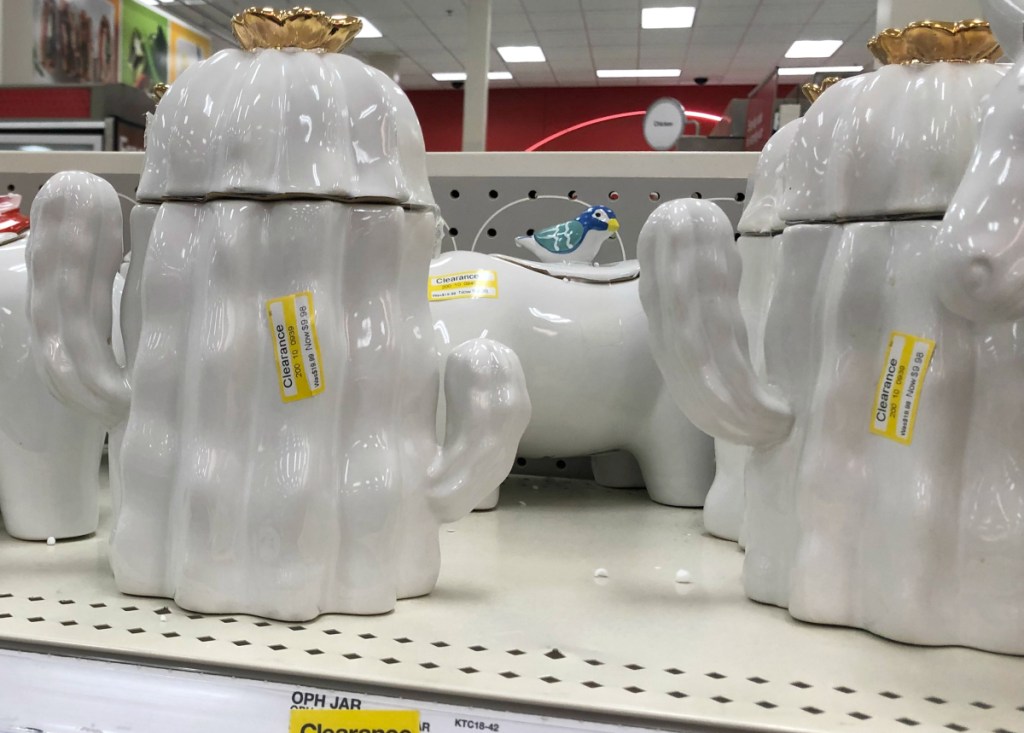 Opalhouse Cactus Ceramic Cookie Jar
Regular price: $19.99
Clearance price: $9.98

🏷 Discount: 50% off



Check inventory at your store using DCPI # 200-10-0939
---
Threshold Clearance: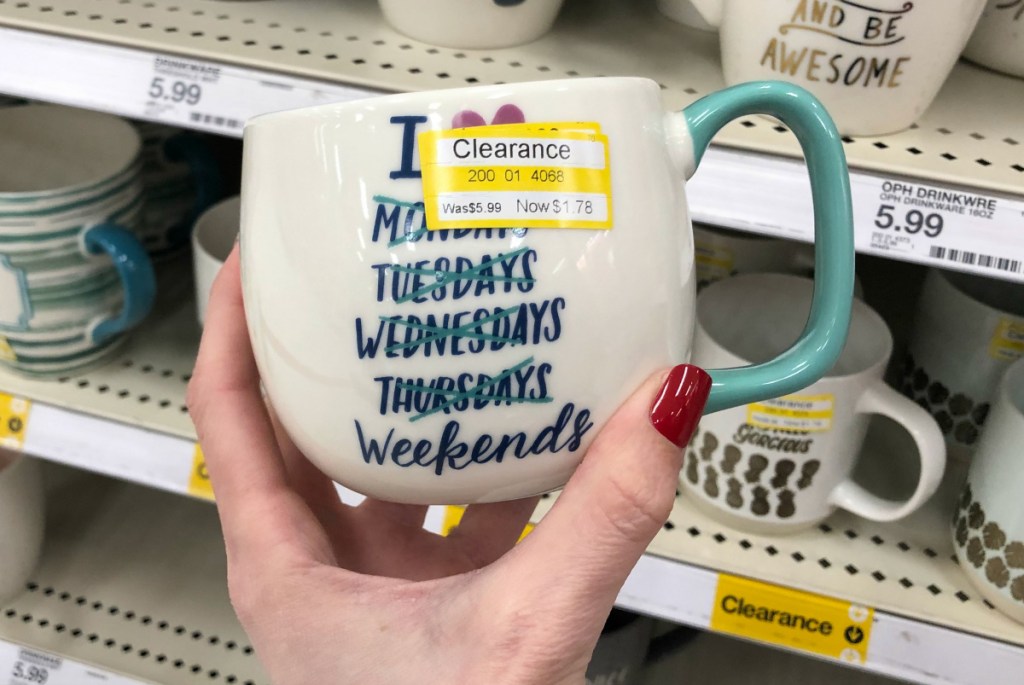 Threshold "I Heart Weekends" Porcelain Mug
Regular price: $5.99
Clearance price: $1.78

🏷 Discount: 70% off



Check inventory at your store using DCPI # 200-01-4068
---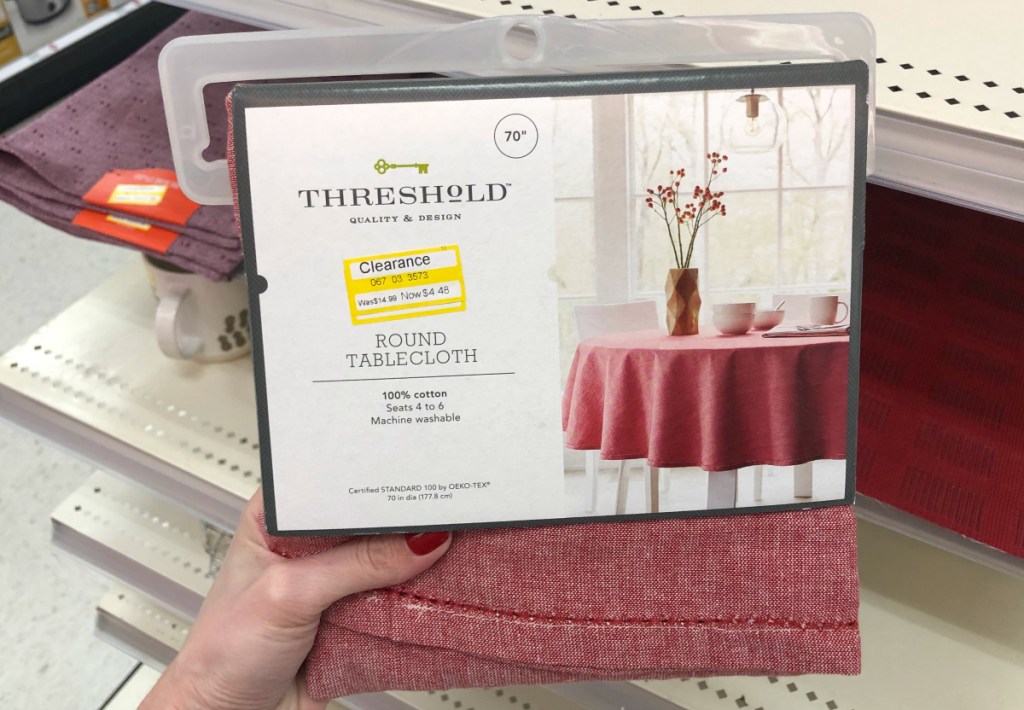 Threshold 70″ Chambray Hemstitch Round Tablecloth
Regular price: $14.99
Clearance price: $4.48

🏷 Discount: 70% off



Check inventory at your store using DCPI # 067-03-3573
---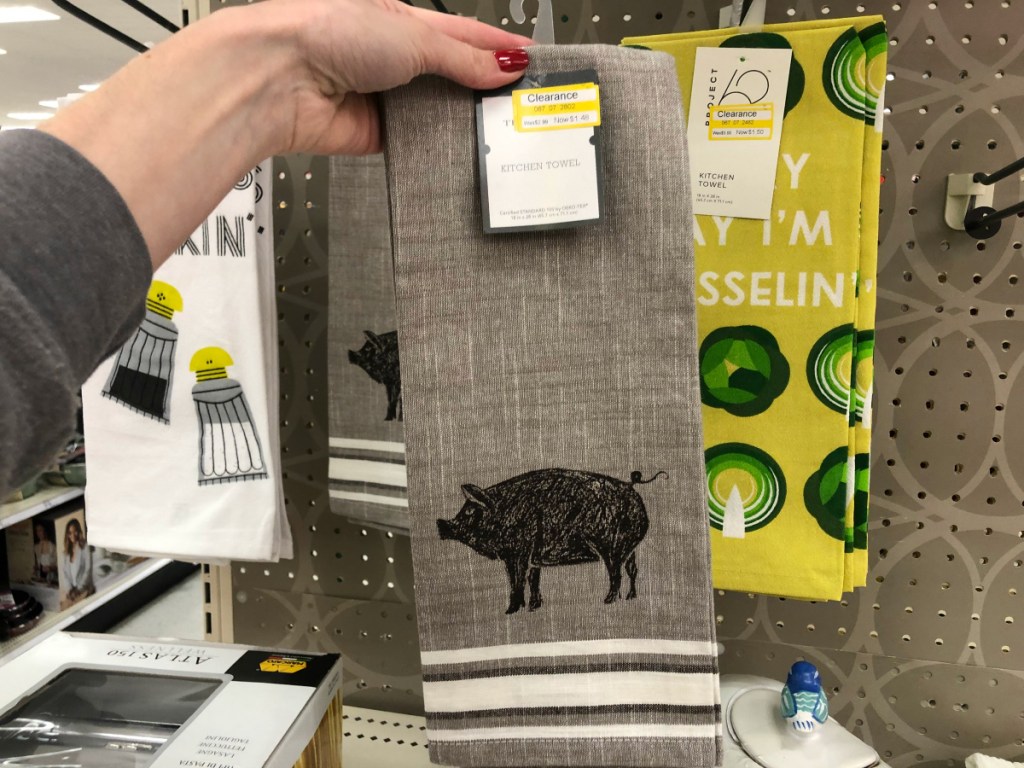 Threshold Gray Pig Kitchen Towel
Regular price: $2.99
Clearance price: $1.48

🏷 Discount: 50% off



Check inventory at your store using DCPI # 067-07-2802
---
Project 62 Clearance: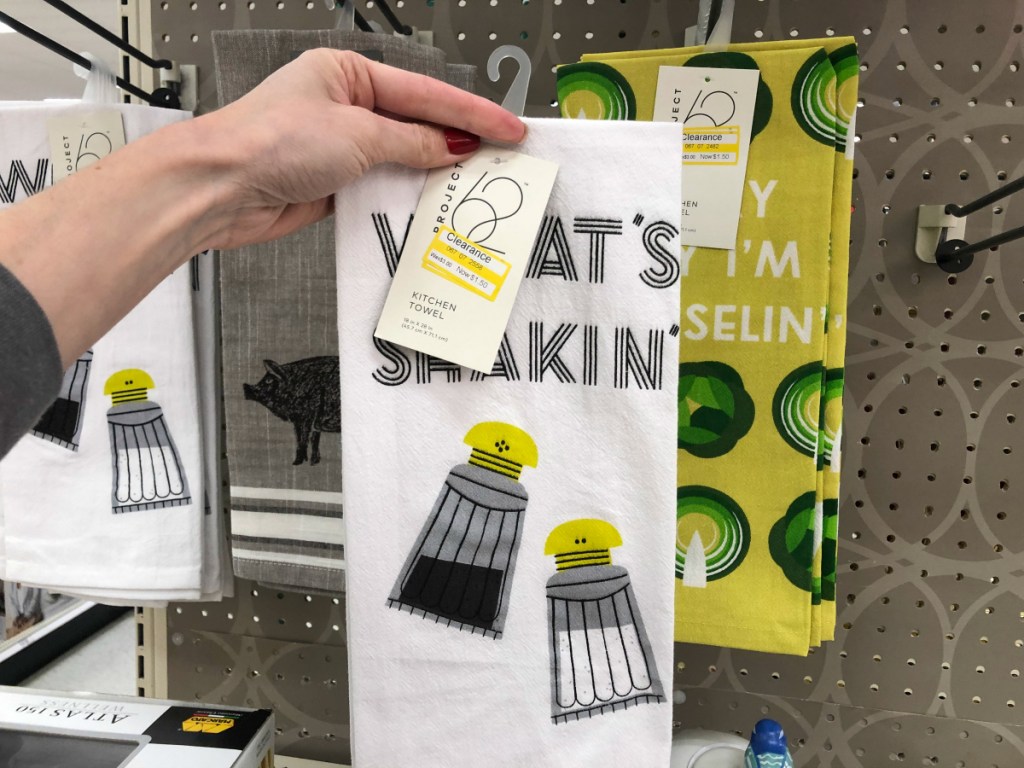 Project 62 "What's Shakin'" Citrus Pear Geometric Kitchen Towel
Regular price: $3
Clearance price: $1.50

🏷 Discount: 50% off



Check inventory at your store using DCPI # 067-07-2558
---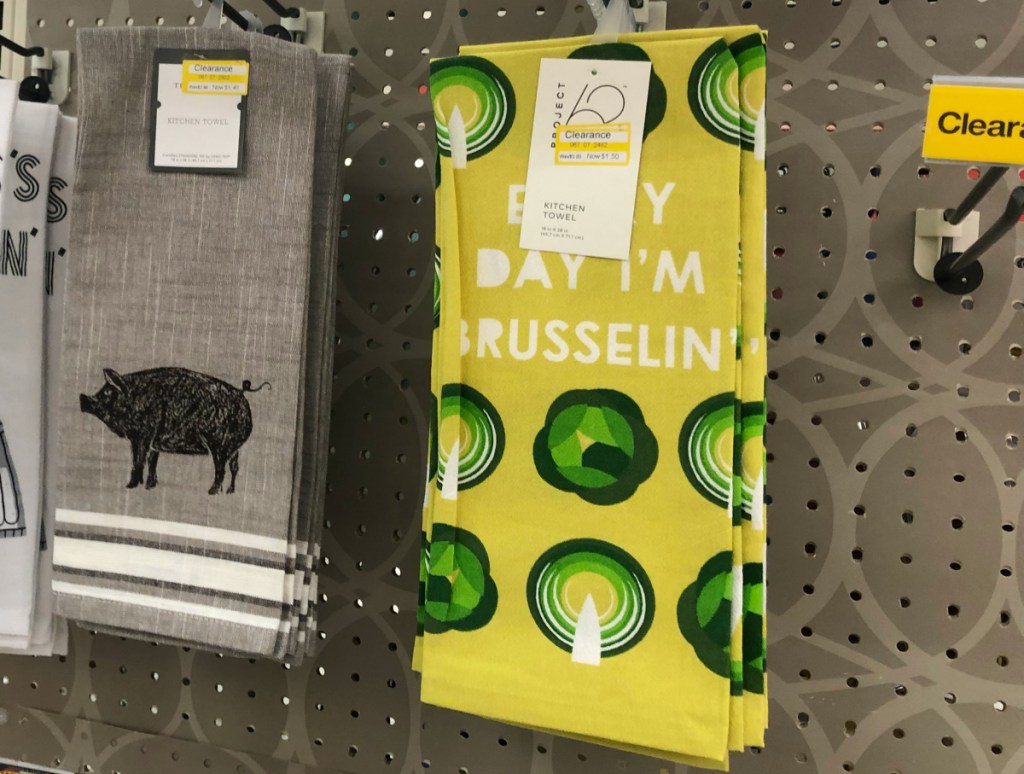 Project 62 "Everyday I'm Brusselin'" Citrus Pear Vegetable Kitchen Towel
Regular price: $3
Clearance price: $1.50

🏷 Discount: 50% off



Check inventory at your store using DCPI # 067-07-2482
---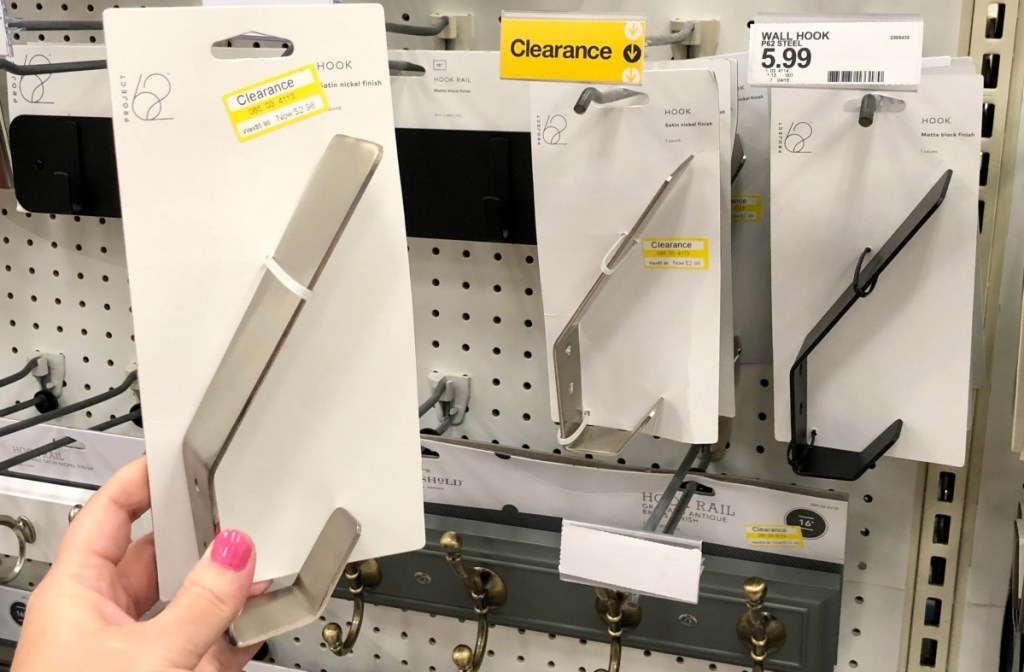 Project 62 Bent Metal Satin Nickel Hook
Regular price: $5.99
Clearance price: $2.98

🏷 Discount: 50% off



Check inventory at your store using DCPI # 085-03-4113
---
Hearth & Hand with Magnolia Clearance: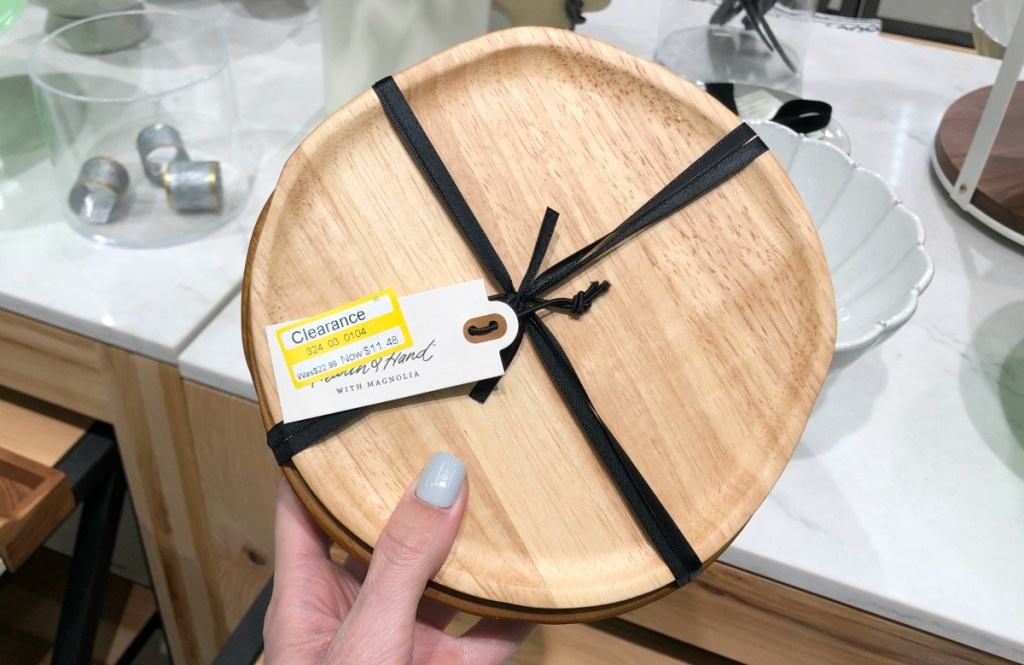 Hearth & Hand with Magnolia 4-pack Wood Appetizer Plates
Regular price: $22.99
Clearance price: $11.48

🏷 Discount: 50% off



Check inventory at your store using DCPI # 324-03-0104
---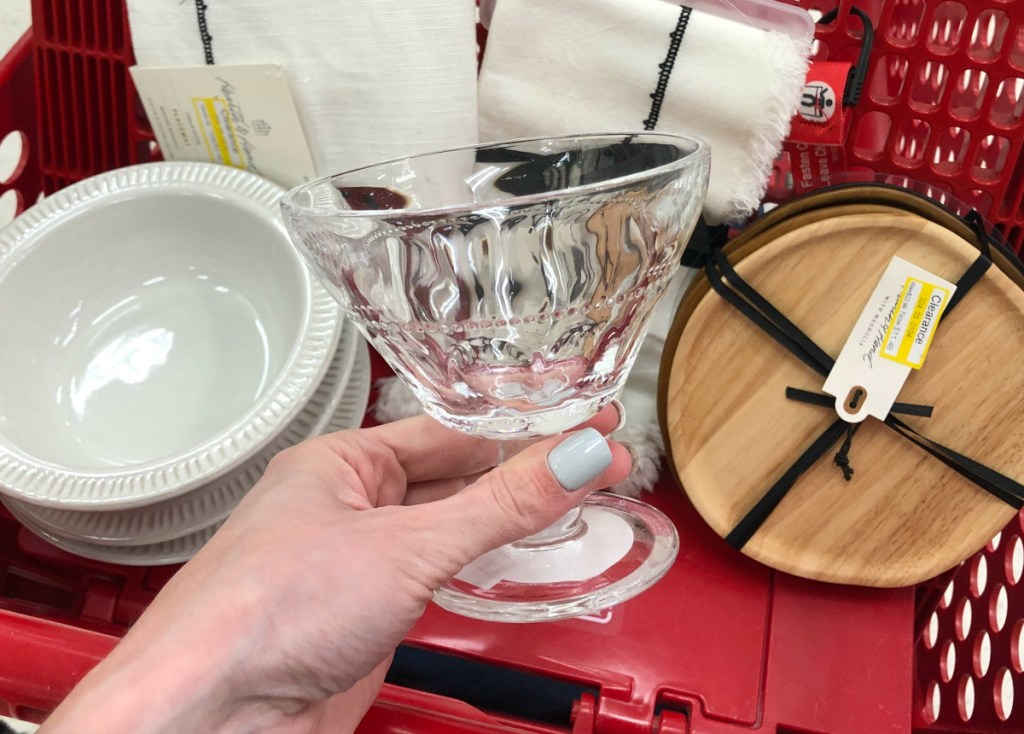 Hearth & Hand with Magnolia Clear Glass Dessert Bowl
Regular price: $6.99
Clearance price: $3.48

🏷 Discount: 50% off



Check inventory at your store using DCPI # 324-03-0201
---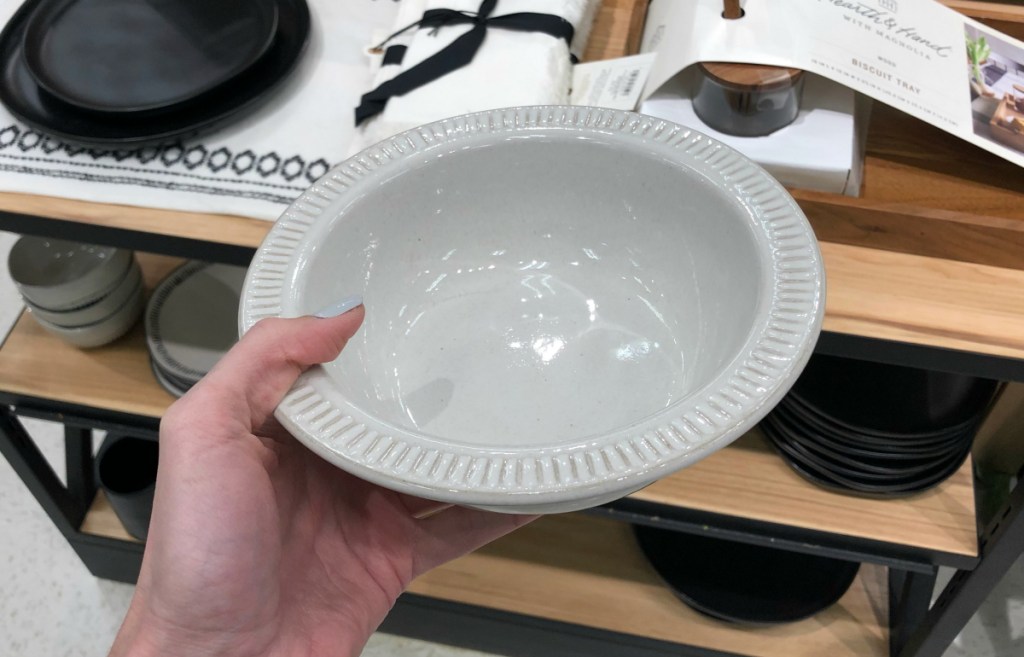 Hearth & Hand with Magnolia White Dining Bowl
Regular price: $5.99
Clearance price: $2.98

🏷 Discount: 50% off



Check inventory at your store using DCPI # 324-03-0226
---