This Highly Rated Patio Furniture is on Sale AND it Ships Free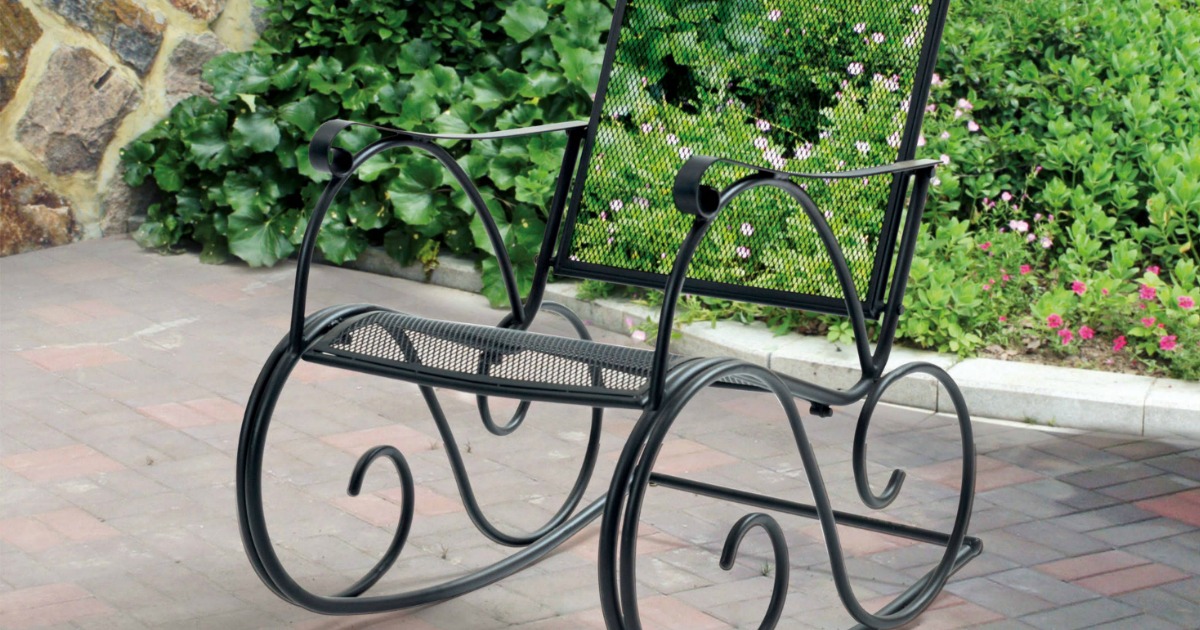 Get your patio ready for summer!
Shopping around for new patio furniture? I'm guessing Walmart may not cross your mind, but there's a huge selection of trendy outdoor furniture and decor on Walmart.com – and the best part, it's super affordable, ships for free, and many items are very highly rated!
Here are some of our fave pieces (and they are on sale, too!)…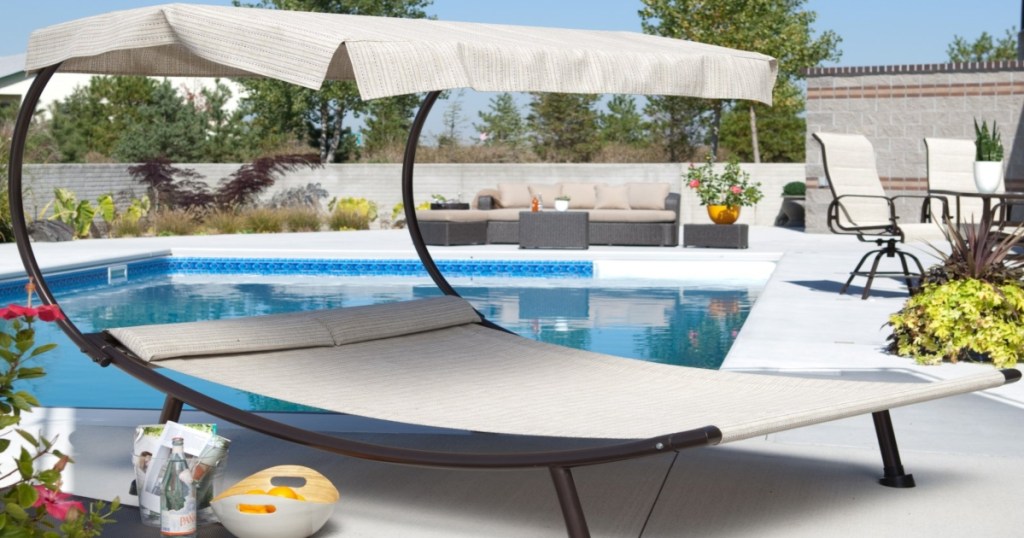 Coral Coast Del Ray Double Chaise Lounge with Canopy
Regular price: $296.10
Sale price: $251.69 shipped
Discount: 15% off
First let me say that it is awesome to be able to lie down outside – to read, nap, hang out. It is pretty comfortable, too, and I've already been out there for a few hours at a time with my laptop and drink. My kids love lying down on it as well. (we have only had Adirondack chairs outside before, so it's a big difference).

That said, the instructions are pretty crummy – there are small diagrams with tiny numbered parts, and unless you are paying very close attention to tiny details, you will do this wrong. I have had to take it apart two times and re-do it, and it's still not assembled completely. (first I couldn't get one end of the legs in without undoing the other end, then the the bed fabric was installed upside down, now the canopy legs are at the wrong end, so I will have to redo it yet again to get the canopy up). Also, the bed part does show some stretch already, but I suppose that it to be expected. – ★★★★ Walmart customer review
---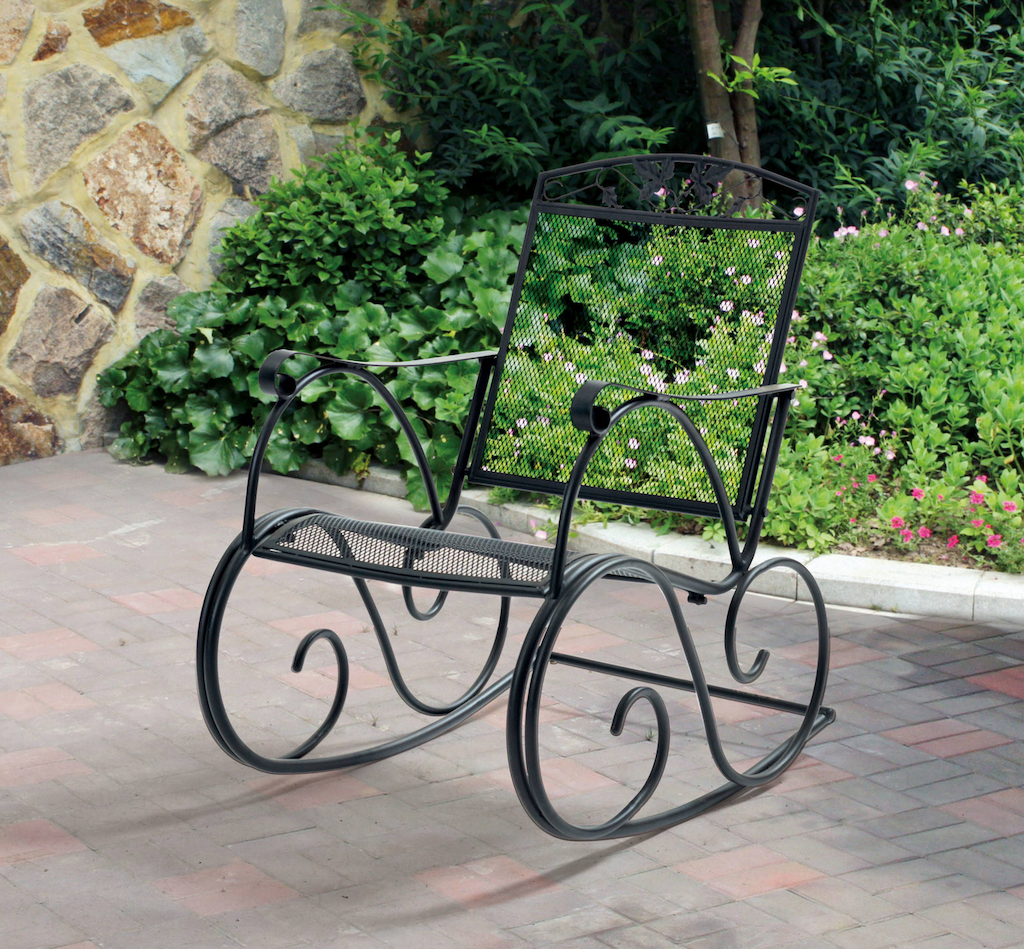 Mainstays Jefferson Outdoor Wrought Iron Porch Rocking Chair
Regular price: $99.99
Sale price: $75.97 shipped
Discount: 24% off
Although my son and I had a little bit of a time putting them together due to the fact the pre-made holds were not quite big enough. And as far as recommending this to a friend a day later after we put them out on the porch, several neighbors inquired about them. I wanted something different than what everyone else had (the wicker style), and I needed something that would hold-up to teenagers hanging out on it. This wrought iron will be around for their grand-children. I also purchased two Floridian style cushions to put on them. I love em! – ★★★★ Walmart customer review
---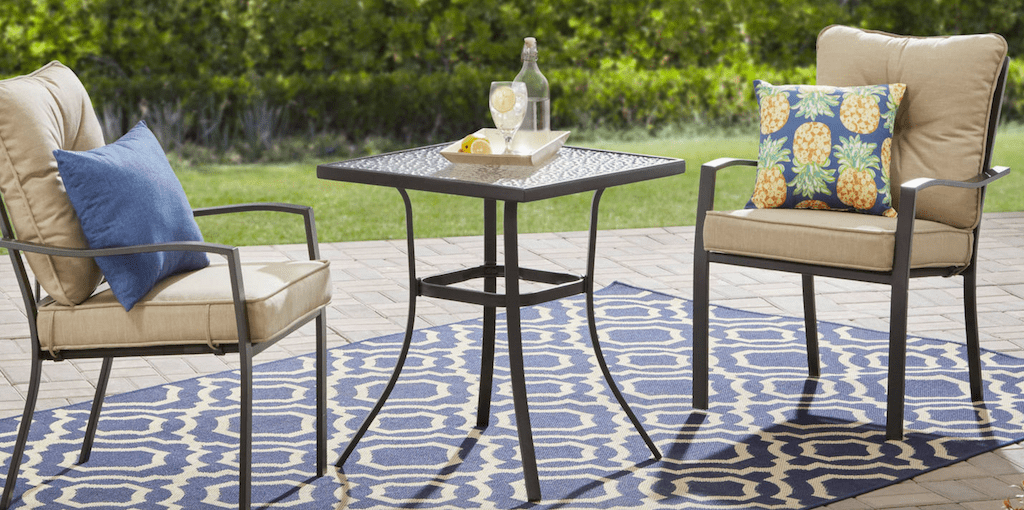 Mainstays Forest Hills 3-Piece Bistro Set
Regular price: $149
Sale price: $106.16 shipped
Discount: 29% off
Exactly what we were looking for! The set is small enough to fit in the balcony and yet the table is wide enough to comfortably have dinner outdoor and enjoy the evening vibes. I like the pillows and the chairs are very comfortable. Just be careful cause when the sun kicks in as the metal turns hot!!! – ★★★★★ Walmart customer review
---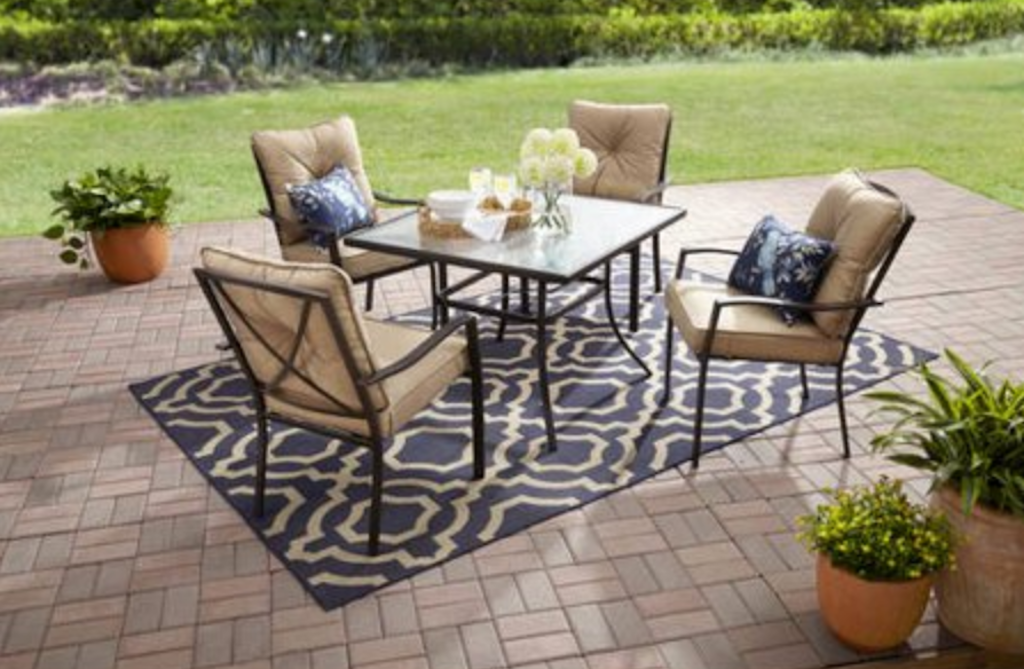 Mainstays Forest Hills 5-Piece Dining Set in Tan
Regular price: $299.99
Sale price: $199.98 shipped
Discount: 33% off
Very nice patio set for the money! Chairs and table are well made. Cushions are made from a canvas type material. The bottom cushions each have 4 snap on cushion holders that keep them in place. I wish they had put snap on cushion holders for the back pillows/cushions. The table was easy to assemble. The couplings the legs slip into then get screwed in are made of plastic. They should of used a better/heavier grade of plastic or used metal. – ★★★★★ Walmart customer review
---