7 Highly Rated Sliding Barn Door Hardware Kits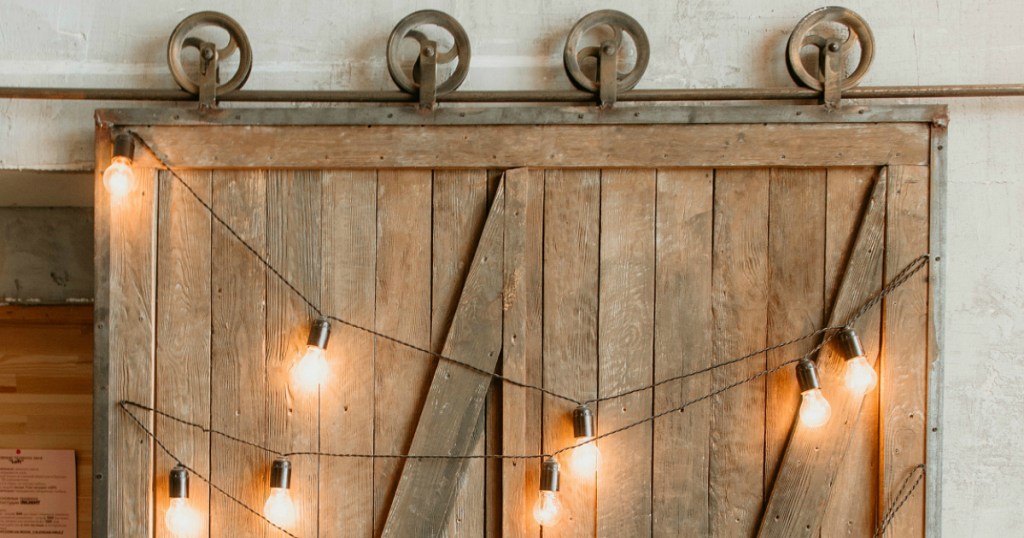 Sliding barn doors have become a popular home trend these days! Adding them to a space brings a touch of rustic warmth that goes great with any style home – and when they're opened they can flood a space with natural light.
Adding a barn door allows you to transform a space from a closed off separate room to a more open concept look on a whim. We just love the way they make a room look and feel! 😍
And you can even install a barn door yourself with various hardware kits! Whether you are looking to completely change your current style with a barn door or just want to upgrade your existing barn door with a new pull, you can easily DIY with any of these highly rated barn door hardware kits from various retailers.
Check out these highly rated barn door kits…
*Note that barn doors are not included in any of these hardware kits.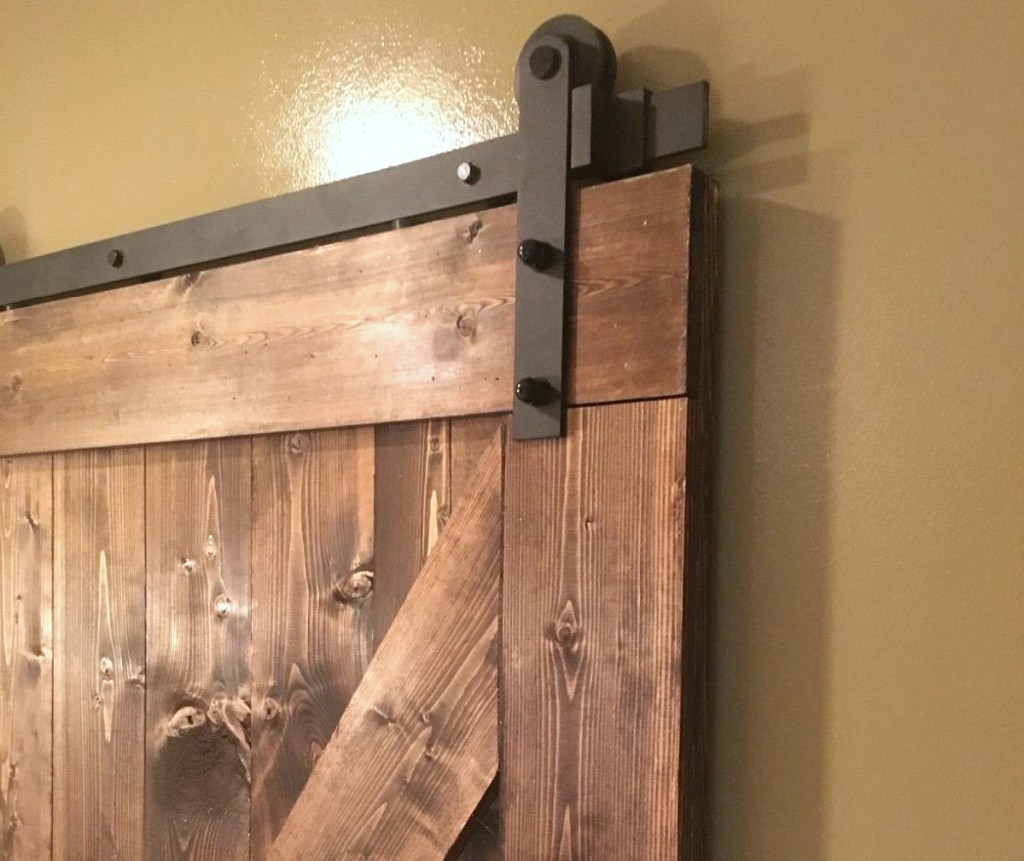 1. TCBunny 6.6ft Antique Style Sliding Barn Door Hardware Kit
"Hardware quality was good, directions however are tricky. Paying attention to the pictures is a must and converting from metrics can be a challenge if you don't take your time. Overall nice hardware for the price and looks wonderful on my barn doors."
Buy it on Amazon | $54.99
---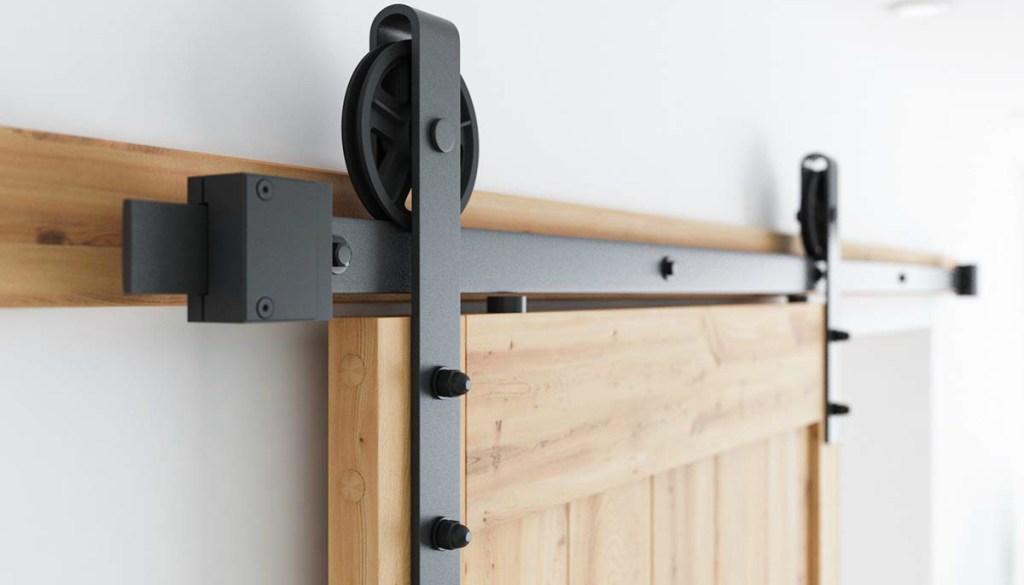 2. Smart Standard 6.6ft Heavy Duty Sliding Barn Door Hardware Kit
"Used this to install a 35″ barn door that I built for our bedroom closet. Package arrived on time w/o damage. Included rail, installation hardware for drywall and concrete (5 bolts each), wheels with bolts and door stops. Rail is a single piece which makes it easier to install for one person. Just take care to read and decipher the instructions before starting; mostly pictures with dimensions for drilling holes. I had to do some math to get the rail height. Wheels are plastic but that didn't matter to me. They run extremely smooth and quiet resulting in the door opening and closing very easily."
Buy it on Amazon | $69.99
---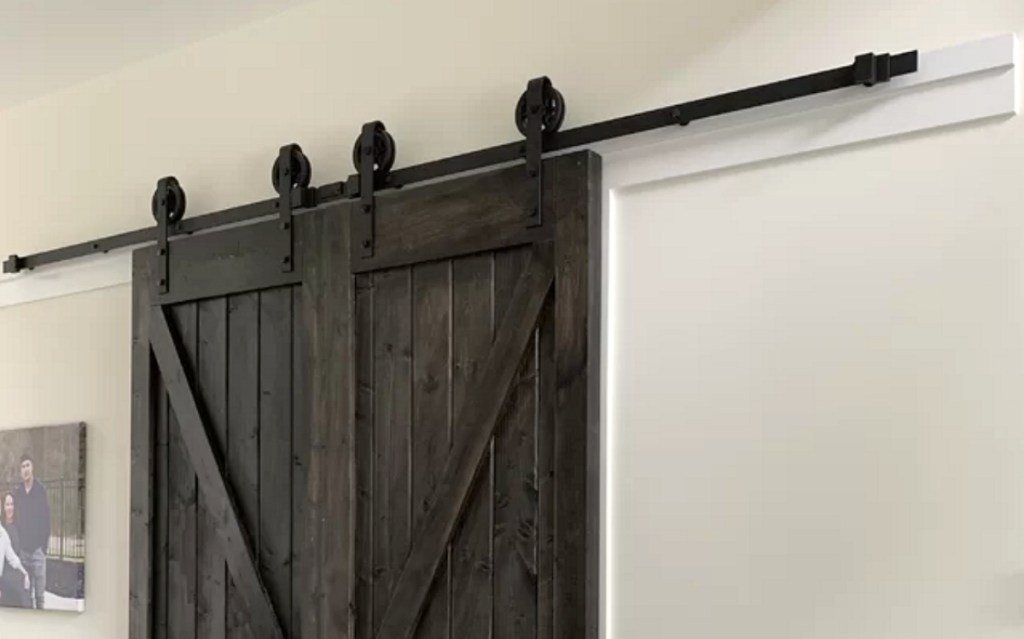 3. Belleze Classic Rustic Sliding Standard Barn Door Hardware Kit
"Loved this barn door track. It does come in two 3.3ft pieces but that doesn't hinder the structural integrity. Very easy to put up (especially because my hubby did it…lol). Paired it with a door we refurbished from the Habitat for Humanity store and finished off with a nice handle. Door slides nicely, but we did have to purchase a better bottom track. Overall, we love it and would buy again!"
Buy it on Wayfair | $87.99
---
4. Industrial by Design 10ft Heavy Duty Sliding Barn Door Hardware Kit
"This is my 2nd hardware kit from Industrial By Design. Installed on my 2nd barn door in my new house. It is great hardware and the customer service is top notch. I wish all companies were as customer driven as these folks are!! Everyone that sees my two barn doors loves the look of the hardware that I used. Look no further, this is an excellent product and company."
Buy it on Amazon | $95.95
---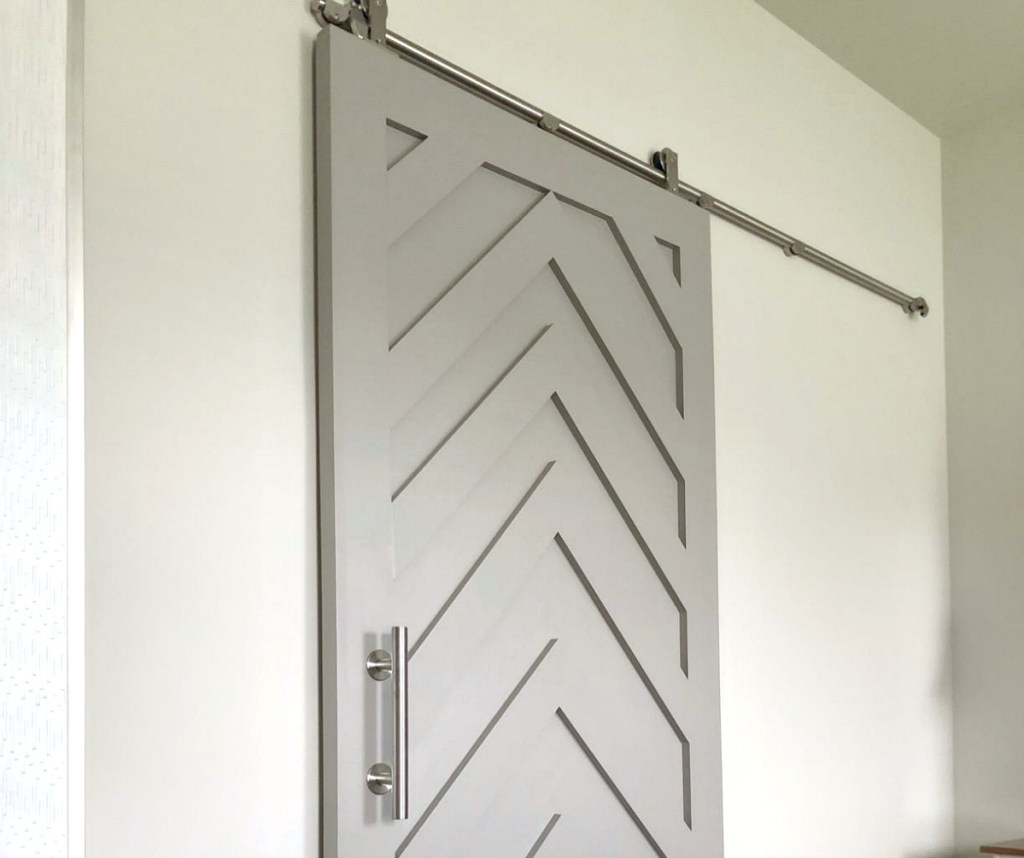 5. TC Bunny 6.6ft Satin Stainless Steel Sliding Barn Door Hardware Kit
"I got two of these to install barn doors in my basement, which had two doorways that were different sizes, neither of which are standard. Rather than mess with re-doing a doorway, I decided to just custom build myself a couple of doors. I did a LOT of shopping around for the right style of sliding door hardware and fell in love with this style. The stainless steel color and minimal style is really modern and looks great with the rest of my decor. And seriously, this price cannot be beat! I found some hardware sets at places like Home Depot that cost upwards of $300-$400 dollars and I definitely did not want to pay that much."
Buy it on Amazon | $107.95
---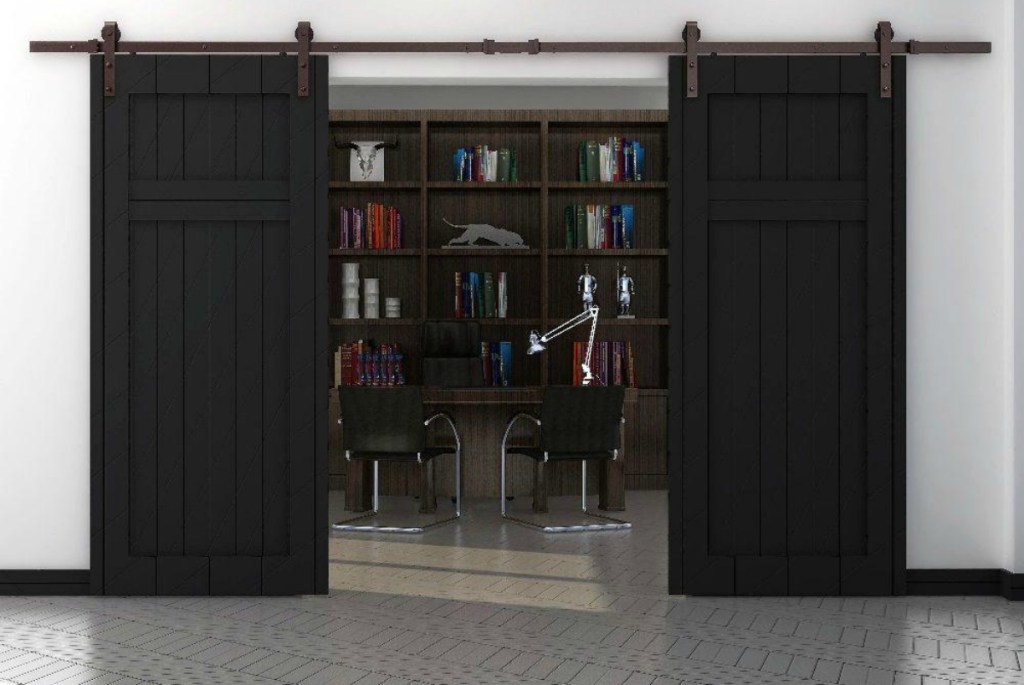 6. Everbilt 6ft. Dark Oil-Rubbed Bronze Sliding Barn Hardware Kit
"High quality hardware for a terrific price when compared to anything else I could find. Added a door I purchased from Home Depot online, as well as some additional decorative hardware sold at Home Depot…decorative strap hinges and decorative nail heads. Love the look of this decorative/sliding barn door hardware!"
Buy it at The Home Depot | $159
---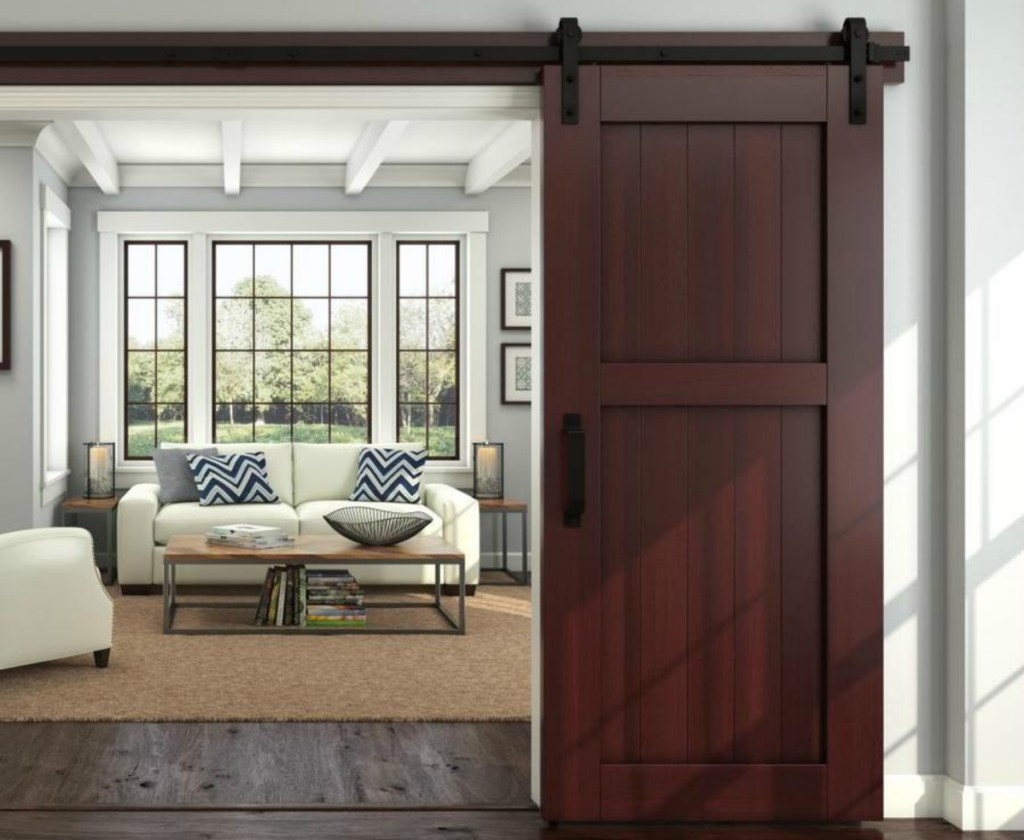 7. National Hardware 6ft. Bronze Interior Top Mount Barn Door Kit
"Good quality and easy to install with good instructions. It is recommended to have a 1×6 header, so you might want to pick that up when you are purchasing and save a trip. We painted the header the same color as the wall to blend in. Double check to make sure it is level all the way across. Works like a breeze with the tall home made wood door!"
Buy it at Lowe's | $172
---
Are keyless digital front door locks worth it? Check out our debate!