Debate: Are Keyless Digital Front Door Locks Worth It?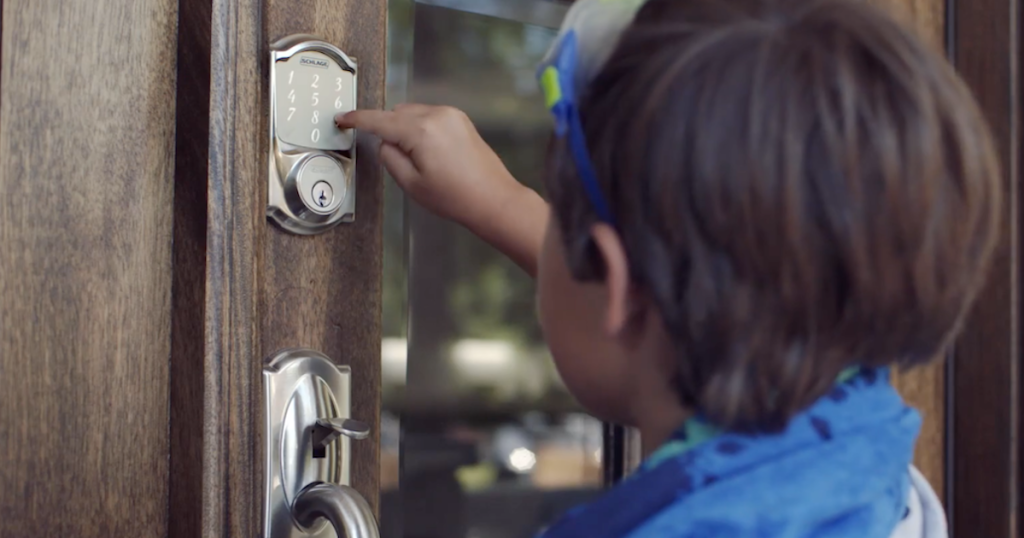 Home is where you and your family should feel safest.
I'm talking about the pros and cons of keyless digital front door locks and sharing some of my favorites. Plus, I'm giving you the scoop on what the rest of our team thinks about them, so you'll know if they are worth it!
---
Digital Locks pros vs. cons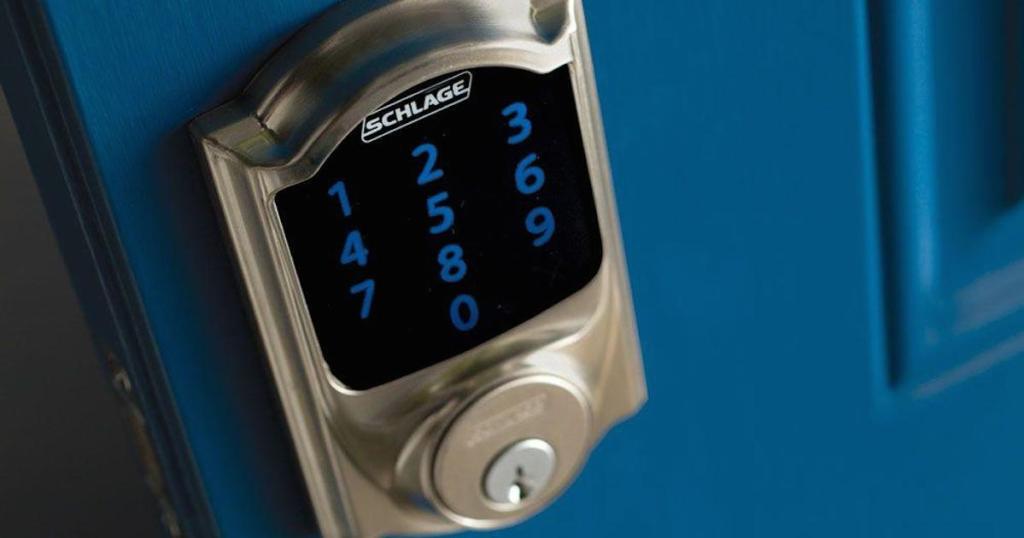 Pros: 
They are keyless, so there's no need to carry around a key.
No need to store extra keys outside your home.
Easily share access to your home with trusted friends or family.
No need to ever make extra keys again (or ask for them back 😉)
Tell when (and how) people enter your home.
Alert the police if incorrect numbers are entered too many times.
Take less time to enter your home, as opposed to shuffling around for a key.
They can be paired with your smartphone for convenience.
Cons:
They're more expensive than traditional locks.
Intruders can potentially guess or hack the numbers to enter your home.
Batteries on the locks eventually die, causing inconveniences.
Some models don't support lock bumping.
Not for people who can't remember number combinations.
Some smart locks only work with deadbolts
If WiFi is slow, you might have difficulty using smart digital locks.
Some may fail if there's a power outage, therefore your door would be unlocked.
Hip Safety Tip: Using a digital lock? Change up your code every so often. After having the same code for a while, the numbers start to fade, which can be dangerous (there are people out there looking for those faded numbers to try to guess the code).
Here are 3 of our favorite top-rated digital locks: 
---
1. The ultimate smart digital lock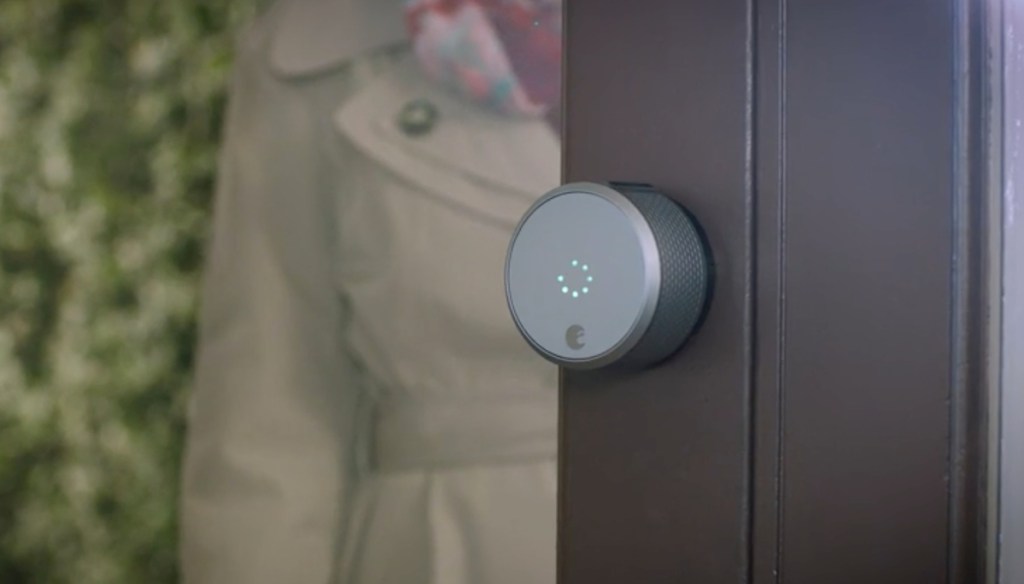 August Smart Lock Pro + Connect, 3rd gen technology
The key to your smart home is with this keyless door lock! It works with your Alexa, so you can keep tabs on your front door from the app – plus allow access for the pet sitter or when the kids get home from school. The August Smart lock can do it all remotely!
---
2. The best digital lock for deadbolts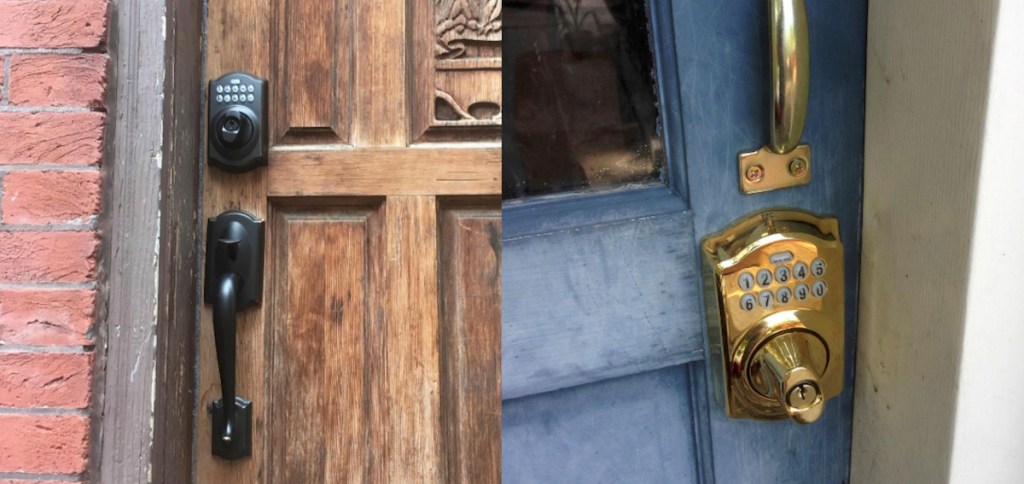 Schlage BE365CAM619 Be365 Camelot Keypad Deadbolt

This commercial-grade backlit keypad is perfect for any door that requires the use of a deadbolt. With two programmed codes already installed, you'll be ready to use it right after installation and be on your way to a more hassle-free way front door experience.
---
3. The all-in-one digital lock for side or garage doors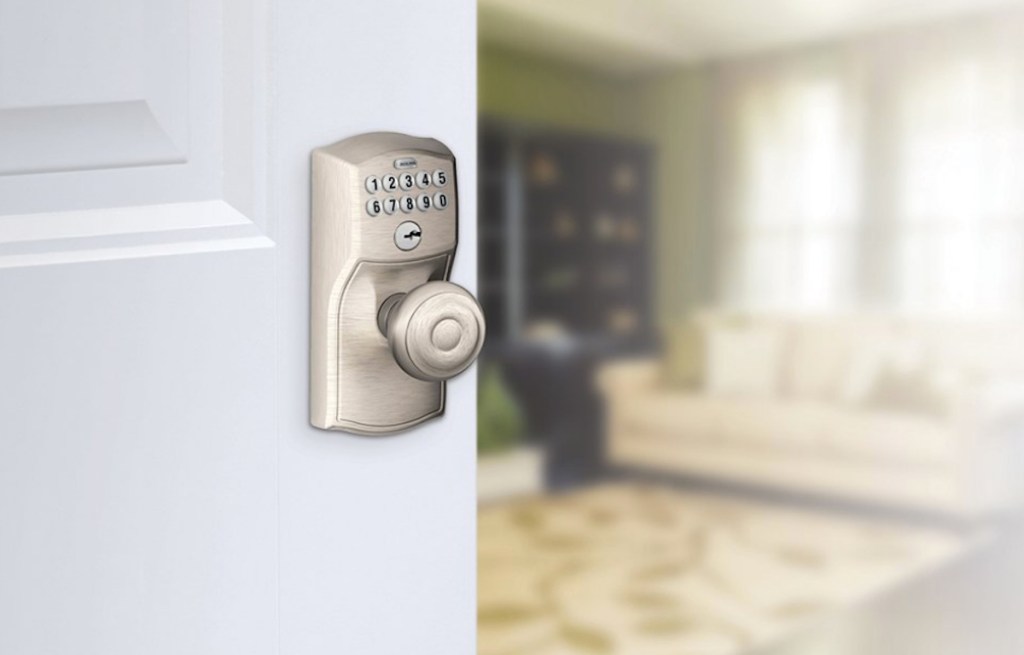 Schlage FE595 CAM 619 GEO Camelot Keypad Entry with Flex-Lock and Georgian Style Knobs
Want to replace it all? This digital lock comes with the keypad and the knob all-in-one, perfect for those extra doors you have around the house like your garage or basement walk-out. With two codes ready to go, your whole house will be locked down.
---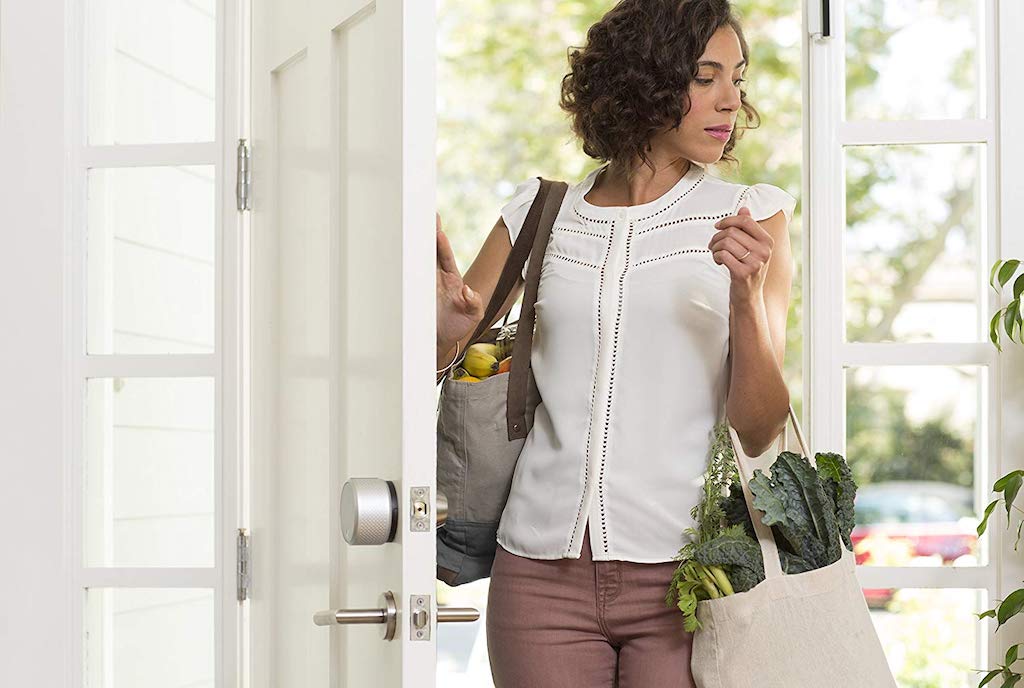 So what's the Hip2BeHome team verdict? Here's what some of us had to say:
Digital Lock Traditional Lock
"I have a digital lock, and I LOVE it! It makes it so easy for my kiddos to come in and out of the house without having to worry about carrying around housekeys. And no more hiding keys under a rock! The only downfall is that my kids' friends sometimes walk into our house unannounced as my kids have shared the code with them!" – Bryn 
---
"I love digital locks! We have one, and it's so much easier than having to keep keys. Plus, since it automatically locks once we shut the door, I never have to worry if I locked the door. Our keypad also lights up at the touch of a button, which is amazing, so it's always easy to see the keypad." – Jamie
---
"I don't personally own a digital lock, but I'd love to have one! I see them in a lot of the international shows I watch, and I can see how convenient they could be with kids coming and going and never losing your keys. I also love some of the security cameras that can integrate with them." – Jami
---
"We used a digital lock at an Airbnb we stayed at, and we LOVED it! It totally convinced us to get one in our new house. No looking for keys, and you can give someone a personal code to use until you cancel it (like a family member in town and such). We loved the ones that Schlage makes where you punch in a number." – Jennifer
---
"My parents have one, and it's so nice because I can always get into their house if I need to, even if they are not home. Love to not have to worry about a key." – Erica 
---
"I've never thought about getting a digital lock, simply because I'm cheap and figured they would be too expensive, but after participating in this post, I feel like there are so many great benefits, and they're really not that expensive in my opinion. Plus, you can't put a price tag on when it comes to protecting your family and home." – Jessica
---
"My good friend has a digital lock on his house, and it's super neat! He uses his smart lock for his dog walker so he can come and go as needed. Also, once when I was in the area, (and he was at work) he said I could go to the house to use his WiFi versus Starbucks, and he just unlocked it from his phone from work! So neat!" – Tracey
Traditional Lock Digital Lock
"I wouldn't mind having a digital lock, but we go through our garage more than our front door, so I never really felt the need to have one." – Paige 
---
"Being in a rental, a digital lock isn't something I would add to our door. Plus, we use the garage for coming and going, so I don't see the need for it anyways." – Alana
---
The verdict? Digital Locks – 7 vs. Traditional Locks – 2
It's pretty clear to see the team here at Hip2BeHome favors the new technology that keyless, digital locks have to offer, and only a select few feel no need to have one with the convenience of their garage.
---
Do you have a digital lock?
What do you think about it? Let us know in the comments below!
---
Sara (sara@hip2behome.com) loves sharing decor that inspires people on a budget and finds joy in traveling to new places.  
---