Bedding 101: How To Wash White Sheets Without Bleach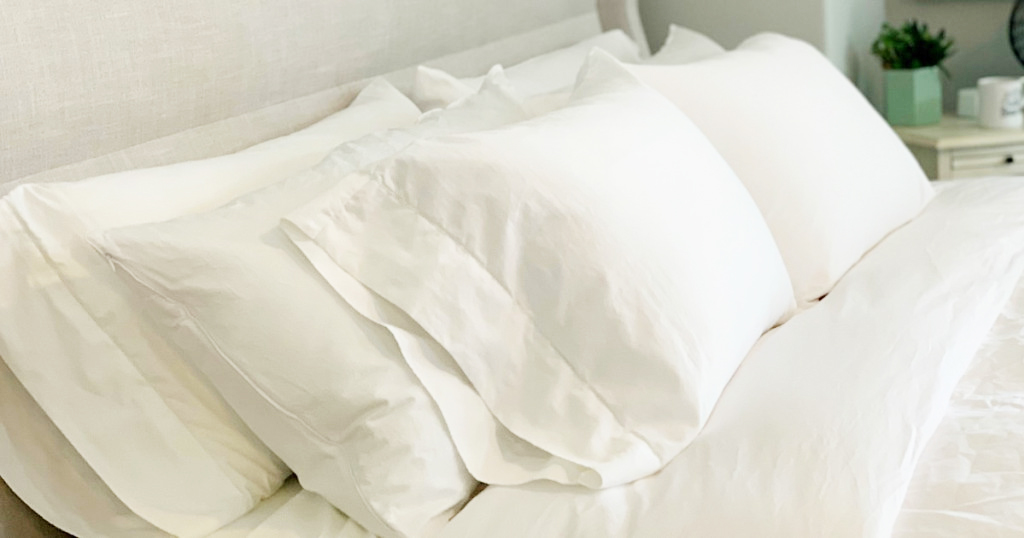 I spent nearly $1000 on new sheets and ruined them within a year.
Yep, that's the sad truth. Years ago, after developing an unaffordable obsession with designer bedding, I purchased a truly amazing Ralph Lauren sheet & duvet set (now discontinued). They were on sale, yet I still paid just under a grand. GULP. Honestly, I should NOT have spent even half that amount, but…. they were so soft and I was so pregnant and SO uncomfortable. I justified the purchase with my hormonal need for (at the very least) a good night's sleep!
I followed that purchase with another obsession—The smell of freshly laundered, bleached whites. I don't know if it was a weird pregnancy thing or what, but I would've happily smelled my way straight into a bleached linen coma back then! (Don't worry, I contained the urge.)
Fast forward a year later. After weekly washings in my coveted bleach bath, my whites weren't so white anymore. Huh? All that innocent bleaching had actually turned my prized whites a faint shade of yellow. Yuck. What I didn't know back then (but I sure know now) is that bleach (aka liquid chlorine) actually promotes stains, sweat, and natural body oils to appear yellow over time. Hmph!
Not only did my nauseatingly expensive sheets develop a gross yellow tinge but they were starting to tear in multiple locations. Another learning curve for me… regular bleaching weakens thread fiber, ultimately deteriorating my sheets. Within another few months, they literally split in half when I was making the bed one morning. Begrudgingly I buried them in the back alley trash bin.🙈
R.I.P. Designer Bedding. It was fun while it lasted.

I'm not much for rules, except when it comes to washing white linens…
With most things in life, I'm a bit of a rebel. With white sheets, I'm a law-abiding citizen. Here's why.
Top 4 reasons to follow the rules of white bedding:
✔️ To keep white sheets white.
✔️ To extend the overall life of white bedding.
✔️ To promote a healthy home using natural products.
✔️ To save hard earned money on expensive laundry products & by avoiding frequent sheet purchases.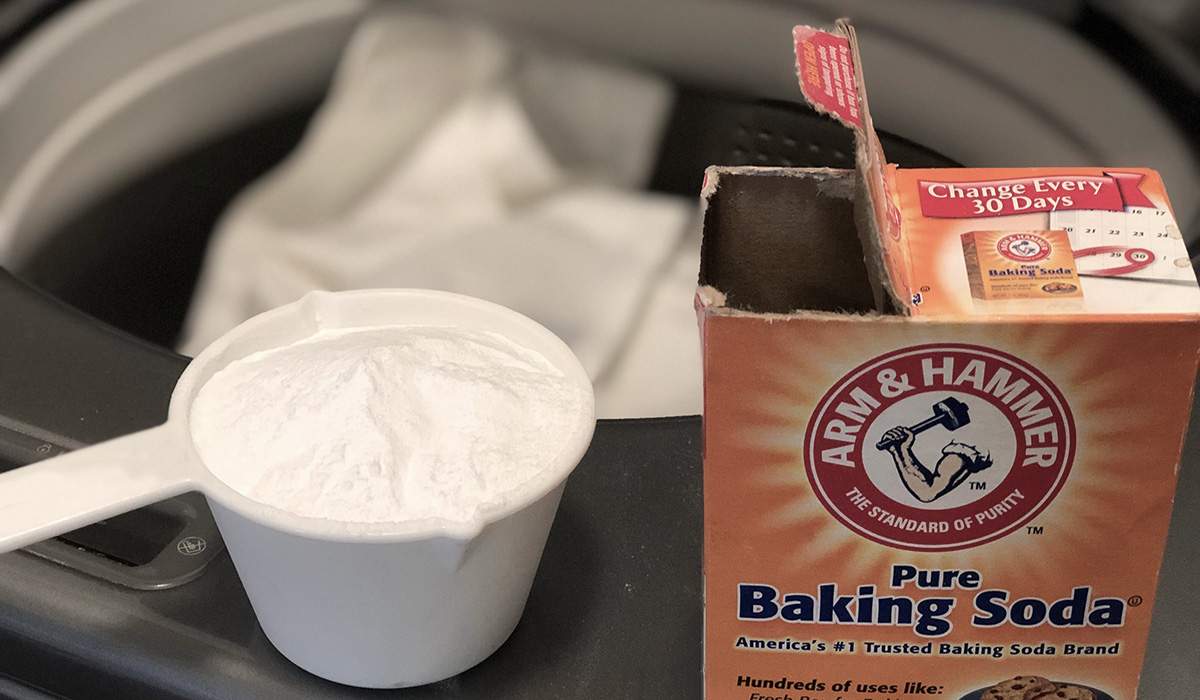 ---
Use this laundry method to wash your whites right:
1. Wash your sheets at least once a week.
As you snooze, you transfer body oil, daily "dirt", sweat, dead skin cells, and so on. Regular washing helps to keep any serious build-up from permanently penetrating your sheets, helping them to stay white longer.
2. Use the right amount of detergent.
It's easy to overdo it without realizing you're using more soap than necessary—especially with high-efficiency washing machine models. Measure the accurate amount based on your load size, detergent brand, and washing machine. Using too much detergent can actually break down delicate thread fibers, causing extra wear on your linens.
3. Use a natural laundry booster.
Washing soda (Sodium Carbonate) and baking soda (Sodium Bicarbonate) are fantastic laundry boosters. Both are natural substances made from a mineral called trona. Washing soda and baking soda are alkaline and help to enhance the effectiveness of your detergent. (Note that washing soda can burn the skin and is NOT edible. If safety is a concern, opt for baking soda.)
Add about a 1/2 cup (1 cup for extra dirty sheets) of either natural booster to your load along with your detergent. I toss it directly into the drum with my sheets before starting my machine.
4.  Do NOT use bleach.
As mentioned earlier in this post, I've come to hate bleach. It's a heavy-duty chemical that will ultimately destroy your sheets. It promotes yellowing when used regularly and breaks down the integrity of your sheet's fibers. Bleach should only be used as a last resort for spot treating serious stains when all other methods have failed.
5. Use distilled white vinegar instead of commercial fabric softeners.
Although commercial fabric softener may smell good, it's actually really bad for your sheets as well as your washing machine and dryer. It creates a tremendous amount of build-up that never gets rinsed out. This build-up binds to the fine fibers of your linens making it harder for your detergent to clean as intended. Over time, this destroys the quality and life of your sheets.
Add 1/2 to 1 cup distilled white vinegar (depending on load size) to the rinse cycle (pour it into the fabric softener tray so it releases automatically). It works wonderfully to help rinse out any remaining detergent and additional build-up. White vinegar also acts as a natural fabric softener, plus it helps to keep your washing machine fresh and clean!
(And not to worry—while you may notice the vinegar smell when the clothes are still wet, once dry I promise the vinegar smell goes away.)
6.  Wash your bedding at the right temperature.
Read the tag attached to your sheets to find out the right temperature for washing. Cotton, sateen, jersey knit, the list goes on… not all fabrics are created equal and need to be treated accordingly. Water temperatures will vary, so take note of what the manufacturer recommends. If you can't find a tag, play it safe and wash in warm or cold water only.
7.  Dry your sheets on low heat… or better yet, hang 'em on the clothesline!
High heat drying causes wrinkling, shrinking, and over-drying, which can weaken thread fiber. Dry on low and check your sheets toward the end. You're better off pulling them out ever-so-slightly damp than over-drying them.
Add a few wool dryer balls to help sheets dry evenly. These little wool balls are also said to act as a softener by continually agitating against the sheet's fibers. (Tennis balls work too!)
Go green and save money by drying your sheets outdoors. It gives them a pleasant, fresh scent and it saves energy. If your line dried sheets feel a bit crisp or rough to the touch, toss them in the dryer on low for just a few minutes (ideally with dryer balls) to help soften them up a bit.
---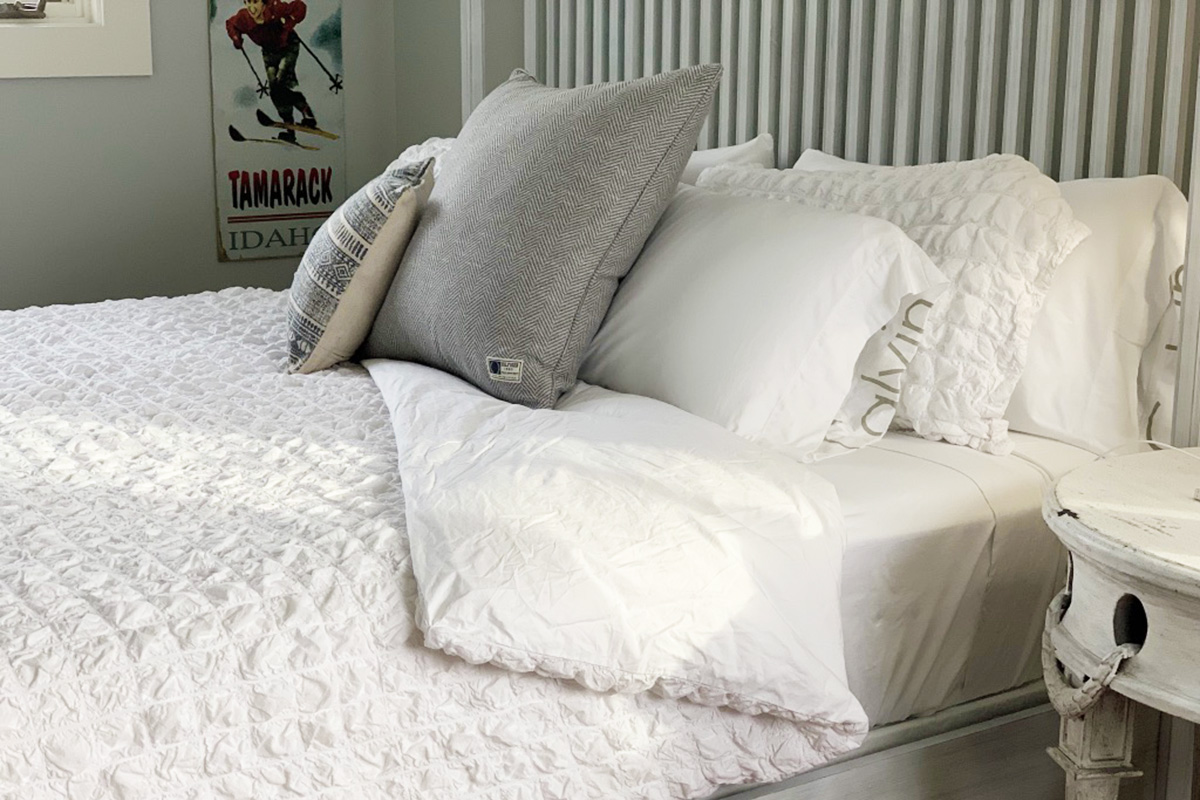 Now you're fully equipped to rock those whites!
I genuinely hope that my past washing and bleaching mistakes have helped educate you towards happy and successful laundering! I'm wishing you and your bedding a long, joyful (and yellow-free) life together!
---
Marley (marley@hip2behome.com) is a professional home stylist who loves space planning, renovating and shopping for the latest trends in home furnishings & decor.
---