This Highly Rated Tramontina 7-Quart Cast Iron Dutch Oven is Under $50
A good Dutch oven can be one of the most important cooking tools you own! We love that they can be used on the stovetop or in the oven and are great at retaining heat. They are ideal to handle larger cuts of meat, and for making soups and stews, but they can do so much more! You can steam, roast, boil, marinate, refrigerate – even make bread.
It doesn't matter what kind of oven or stove you own, as a dutch oven will work with gas, electric, ceramic, and induction cooktops.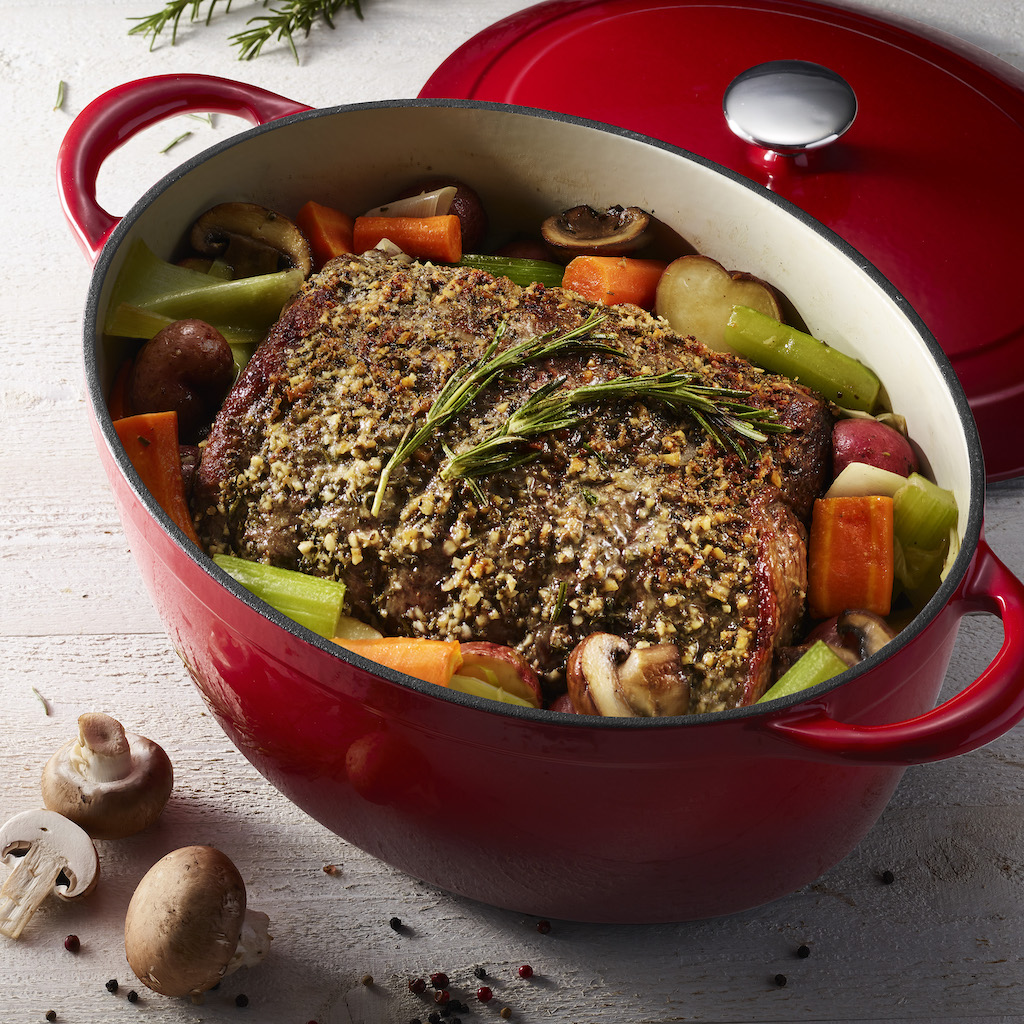 You don't need to spend a lot of money on a good dutch oven either.
This Tramontina 7-Quart Cast Iron Dutch Oven is selling for only $46.07 shipped (in cobalt blue) or $54.97 shipped (in red) at Walmart.com. It has a cast iron exterior, a porcelain enamel interior, and a stainless steel knob, and is oven safe up to 450° F! Plus, the lid has ridges to self baste your foods making them moist and savory!
Check out this 5-star review:
I bought this especially for a French Chicken in a Pot recipe from Cook's Illustrated. When I shopped around, I was shocked to see that the famous imported brand for this size cost about $200.00 more than what I paid for this one at Walmart.

When I looked at the reviews, I found that cooking web sites recommended this brand just as much as the more expensive ones. One complaint was that some brands come with a plastic knob that can melt at higher oven temperatures. So, I was glad to note that this one comes with a metal knob which mostly eliminates that worry.

Do note that all cast iron dutch ovens are very heavy. And, the metal knob is shipped with cellophane film on it. Remove it or it will melt/burn in your oven. The handles get HOT. Price was great. The Dutch Oven is Made in the USA, so what is there not to like? Oh, and the French Chicken in a Pot was delicious.
---
Up Next –>> This kitchen essential is AMAZING!