This Highly Rated Presto Belgian Waffle Bowl Maker Just Dropped in Price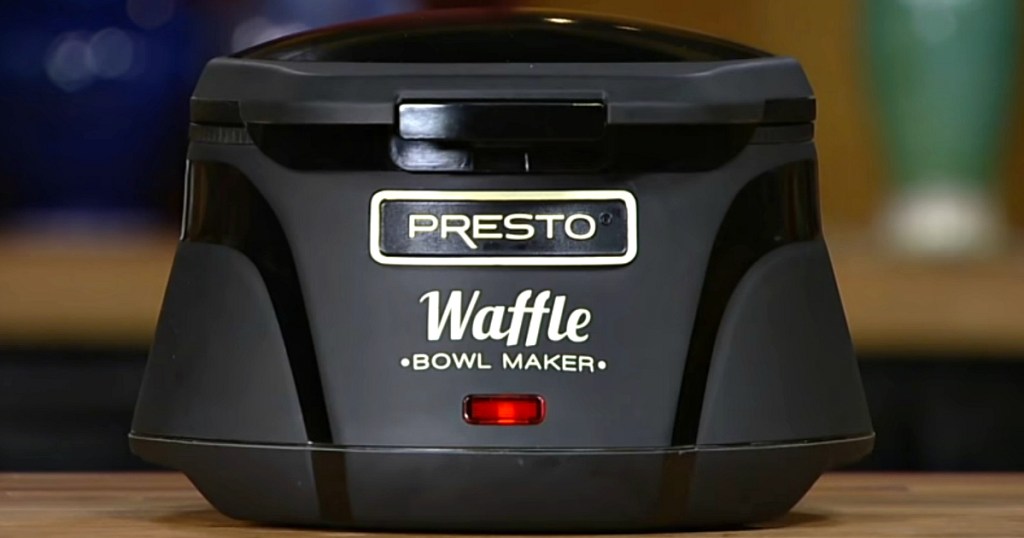 Love homemade waffles?
If so, you may want to snag this very highly rated Presto Belgian Waffle Bowl Maker! This cool gadget allows you to create delicious waffle bowls and fill them with traditional butter and syrup. You can even spice things up by filling them with ice cream, fresh fruit, scrambled eggs, yogurt, and even fried chicken!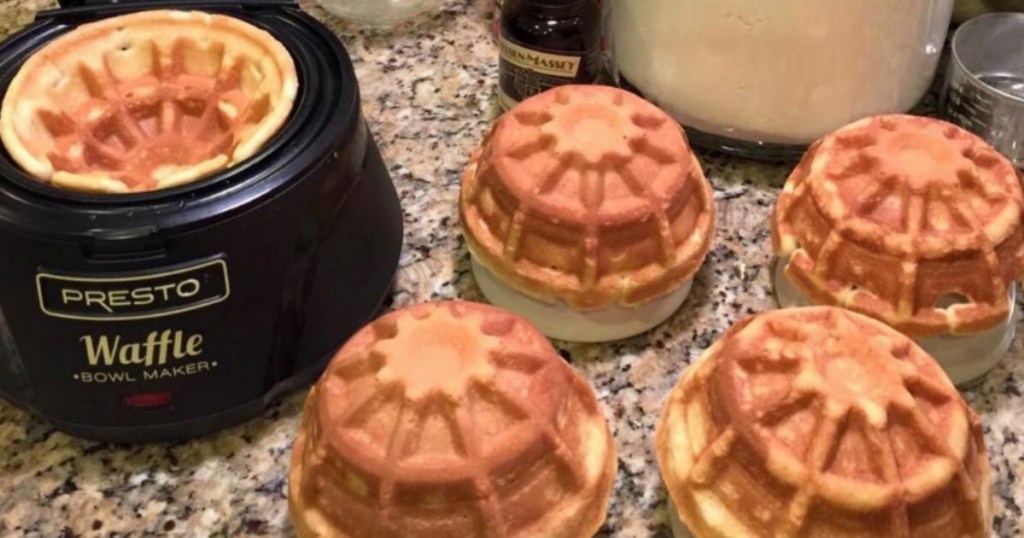 Plus, you can currently save over $25 on this highly rated gadget at Amazon.com or Target.com!
This waffle maker currently sells for $36.99 on the Presto website, so this seems like a nice buy.
On the fence? Check out this helpful 5 star review:
Okay seriously, this thing is AWESOME. I got it in the afternoon and immediately used it to make waffle bowls that night for dinner. And the next morning for breakfast. And then for lunch. And then for dinner.

Granted, it was not just plain waffles the whole time. I was experimenting! I used the basic waffle recipe out of the booklet that came in the box, and it turned out perfectly without any cooking spray or complications. I got a beautifully toasty waffle bowl in 3 minutes. Fresh out of the maker, the waffles are fluffy and easy to bend if you want to use them taco style, which is what I did for breakfast with some butter, powdered sugar, and a fresh banana folded in waffley goodness. We also tried filling them with a variety of berries and other fruits (thawed from being frozen in bags) and topped it all off with whipped cream. There are so many good things to try, I don't think you can go too far wrong here.

If you like your waffles a little more crispy-crunchy, you can cook them a little longer in the maker, or just let them warm a few minutes in a 200 degree oven while you keep making more. They are still very tasty, but become firmer and unbendable, which I think you would want if you're using softer fillings such as yogurt or ice cream.
I also tried other things besides waffle mix.

For lunch I made a potato bowl. I tried using both hash browns and tater tots (the frozen bagged ones, microwaved to thaw first), and they both worked. Obviously they take longer to cook, and you have to position the potatoes with more care to make a complete bowl since they won't flow up to the edges like a batter will, but still. Tastiness! You can fill a potato bowl with eggs or just top it off with salt and cheese.
For dinner I made cornbread bowls for chili, and they turned out super yummy! The jiffy cornbread mix actually has a recipe on the box for making it waffle style instead of traditional style. Very easy!

It was so fun making bowls that I ended up with a few extras in the freezer, so I'll get to see how they are when re-heated. Next up on my list: brownie bowls and cookie bowls!

I got this thing mostly for the novelty of it, and I gotta say I'm glad I did. It's been a lot of fun, and a lot of deliciousness the last two days!
---
Did you see these 10 Best-Selling Home Organization Products?